Grammy Award-Winning St. Louis Symphony Orchestra to Perform Contemporary and Classical Works at IU Auditorium March 25
BLOOMINGTON, Ind. – Celebrated as one of today's most exciting and enduring orchestras, the Grammy Award-winning St. Louis Symphony Orchestra (SLSO) will perform at IU Auditorium on Friday, March 25 at 8 p.m.
The orchestra's Bloomington program will include James Lee III's Chupshah! Harriet's Drive to Canaan, George Gershwin's Concerto in F, and Rachmaninoff's Symphony No. 3. The performance will feature pianist Jean-Yves Thibaudet, who has performed worldwide, recorded more than 50 albums earning two Grammy nominations, and built a reputation as one of today's finest pianists.
"We are always honored to host world-renowned musicians who are dedicated to artistic excellence like the members of the St. Louis Symphony Orchestra," said IU Executive Director Doug Booher. "We are also grateful for the orchestra's dedication to education and community engagement as, along with their performance, their residency in Bloomington will have an impact on our local students and community for years to come."
This year's performance marks the second time that the SLSO has performed live on the Auditorium stage as the first visit took place 70 years ago in February 1952.
SLSO is the second-oldest orchestra in the country, marking its 142nd year with the 2021–2022 season and its third with music director Stéphane Denève. Widely considered one of the world's finest orchestras, the SLSO maintains its commitment to artistic excellence, educational impact, and community connections—all in service to its mission of enriching lives through the power of music.
More recently as part of the campus' Open Air Venues initiative during the 2020–2021 academic year when IU Auditorium did not host live events in its theatre, members of the SLSO brass sections performed live outdoors at Prebys Amphitheater. The musicians also led masterclasses during their visits with students from the Jacobs School of Music.
Bloomington Residency (Click Here for Complete Residency Schedule)
During their stay, the St. Louis Symphony Orchestra will administer an immersive educational experience with students from the IU Jacobs School of Music . Orchestra members and Jacobs faculty will collaborate to offer a robust residency including a wide variety of masterclasses for students studying cello, viola, horn, trombone, flute, clarinet, tuba, trumpet, double bass, violin, oboe, bassoon, timpani, percussion, and harp. In addition, members of the SLSO will be participating in a variety of outreach activities not only involving the Jacobs School of Music, but other campus units and departments as well as local elementary schools.
Indiana University Connections
Eleven members of the St. Louis Symphony Orchestra attended the Jacobs School of Music and include Kristin Ahlstrom (second violin), Aleck Belncher (double bass), Ann Fink (first violin), Andrew François (viola), Tzuying Huang (clarinet, bass clarinet), Sarah Hogan Kaiser (double bass), Victoria Knudtson (horn), Jennifer Nitchman (flute), Jonathan Reycraft (trombone), Shawn Weil (second violin), and Shannon Farrell Williams (viola).
IU Auditorium's 2021–2022 season is presented by B97, Curry Auto Center, The Herald Times, Cook Medical, and World Arts Inc.
For more information on this performance and the rest of the 2021–2022 season, visit IUauditorium.com.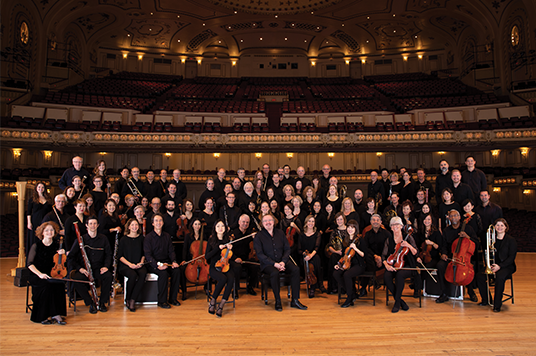 A Grammy Award-winning orchestra widely considered one of the world's finest.