Announcing A Conversation with Dance Theatre of Harlem on February 24
BLOOMINGTON, Ind. – IU Auditorium is proud to announce A Conversation with Dance Theatre of Harlem on Wednesday, February 24 at 7 p.m. ET. The moderated conversation will include a panel with DTH Resident Choreographer, Robert Garland and DTH company artists. The panel will be led by IU African American Dance Company Director Stafford C. Berry Jr. The livestream will be available to view on Zoom and the IU Auditorium Facebook page.
Dance Theatre of Harlem Panel Members
Robert Garland, Resident Choreographer and Dance Theatre of Harlem School Director
Derek Brockington, Company Artist
Alexandra Hutchinson, Company Artist and Indiana University alumna
Sanford Placide, Company Artist
Stephanie Rae Williams, Company Artist
Dance Theatre of Harlem performed at IU Auditorium in January 2017 while also embarking on an educational residency across the state with students of multiple disciplines from Indiana University Bloomington, IU South Bend, and IUPUI, as well as elementary school students.
Currently, Dance Theatre of Harlem is offering digital performances and events with its Winter 2021 Virtual Ballet Series. Audience members are encouraged to watch New Bach, a DTH work choreographed by panel member Robert Garland, prior to tuning into this livestream. New Bach will premiere on the DTH website and YouTube on Saturday, February 20 at 8 p.m. ET and will be available for viewing for a week after the premiere. This work will be part of the IU Auditorium livestream conversation.
Along with discussing New Bach, Berry will lead a discussion with the DTH panel on surviving and thriving professionally during the pandemic. Viewer questions will be encouraged and taken during the live event.
This event is being presented with support from IU Credit Union, IU Office of the Vice President for Diversity, Equity, and Multicultural Affairs, Campus Tutoring Service, and Fred and Beth Cate, along with our season partners, Curry Auto Center and the Cook Group.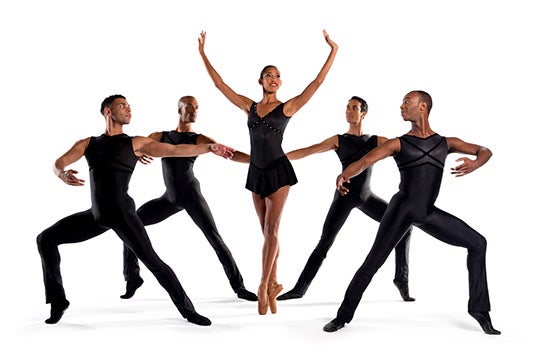 Members of Dance Theatre of Harlem Discuss Their Work, Moderated by IU African American Dance Company Director Stafford C. Berry Jr.