IU Auditorium Vault
Every week we will add a new post from the IU Auditorium Vault of photos, advertisements, programs, and more. Enjoy this look down memory lane with us.
Breaking Away Movie Premiere – 1979
The premiere of the Academy Award-winning film Breaking Away took place at IU Auditorium on April 21, 1979. The movie follows a group of Bloomington teenagers as they interact with IU students on their way to racing in the annual Little 500 bicycle race. The film won an Oscar for Best Original Screenplay and was nominated in four other categories, including Best Picture.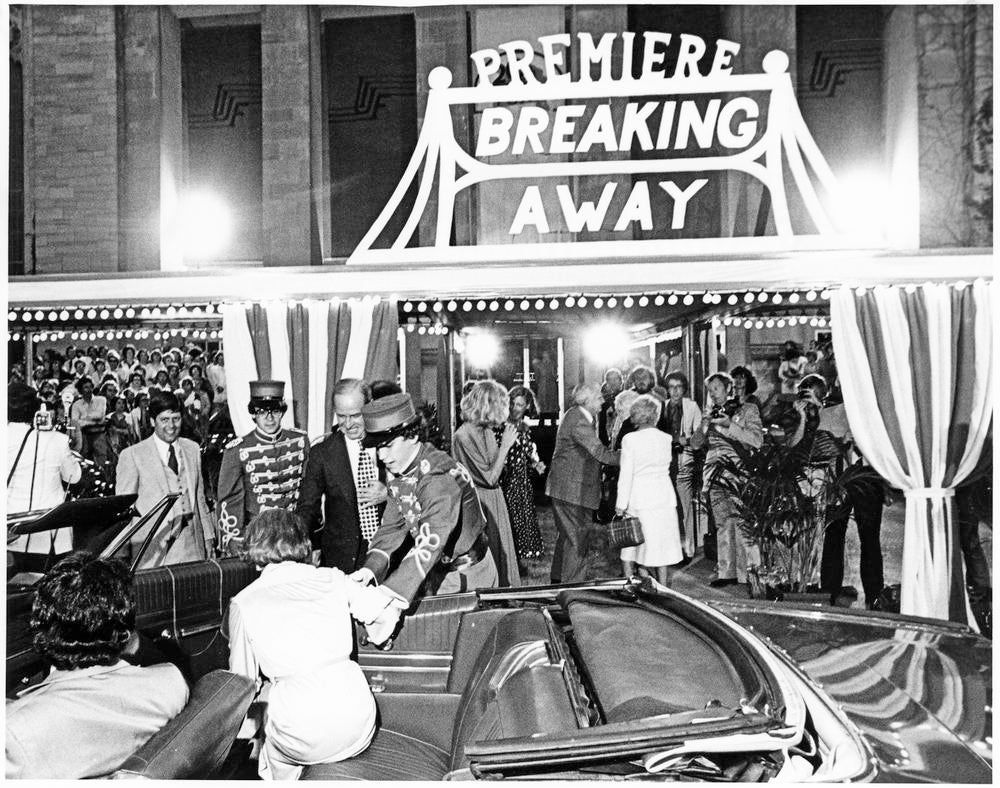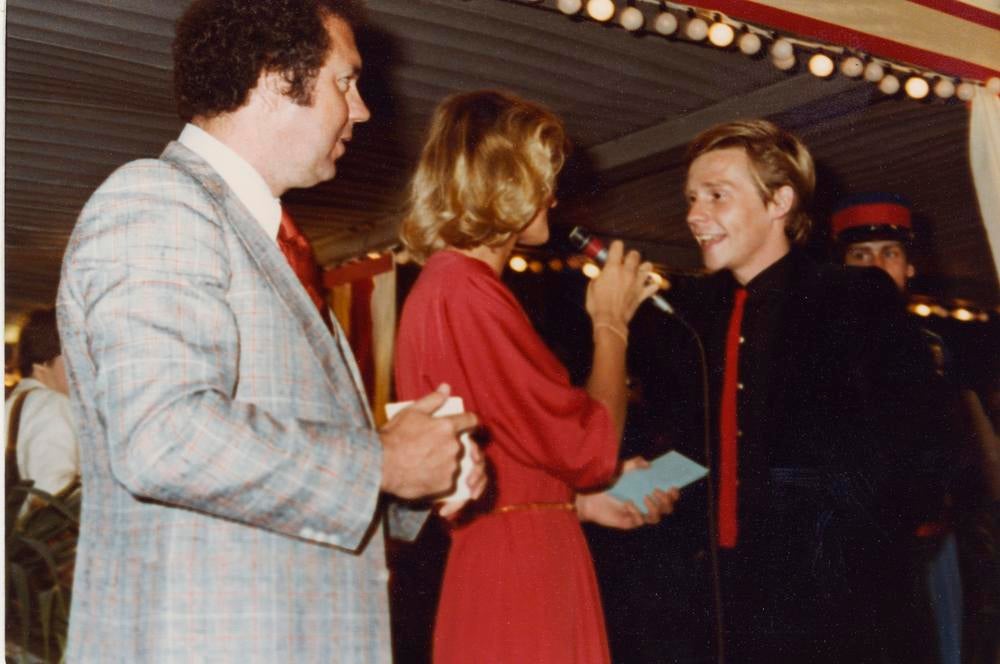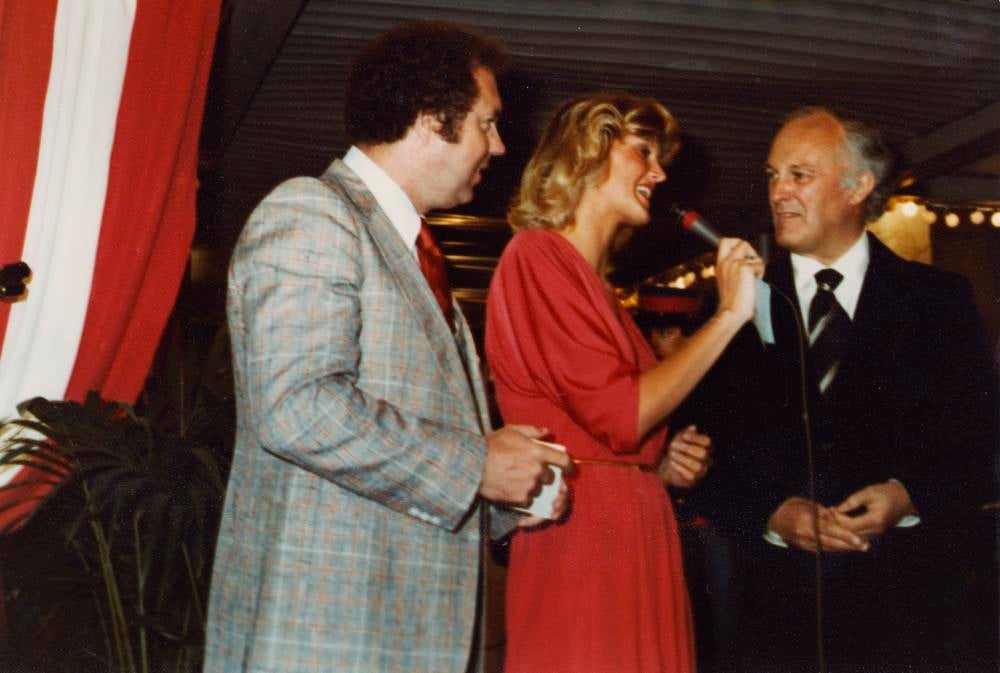 Willie Nelson – 2001, 2004, 2015
Legendary country musician Willie Nelson has performed on the IU Auditorium stage on three occasions with stops in Bloomington in October 2001, December 2004, and October 2015. The red-headed stranger is known for hits such as "On the Road Again," "Good Hearted Woman," and "Always on My Mind," to name a few, and has taken home 10 Grammy Awards during his career.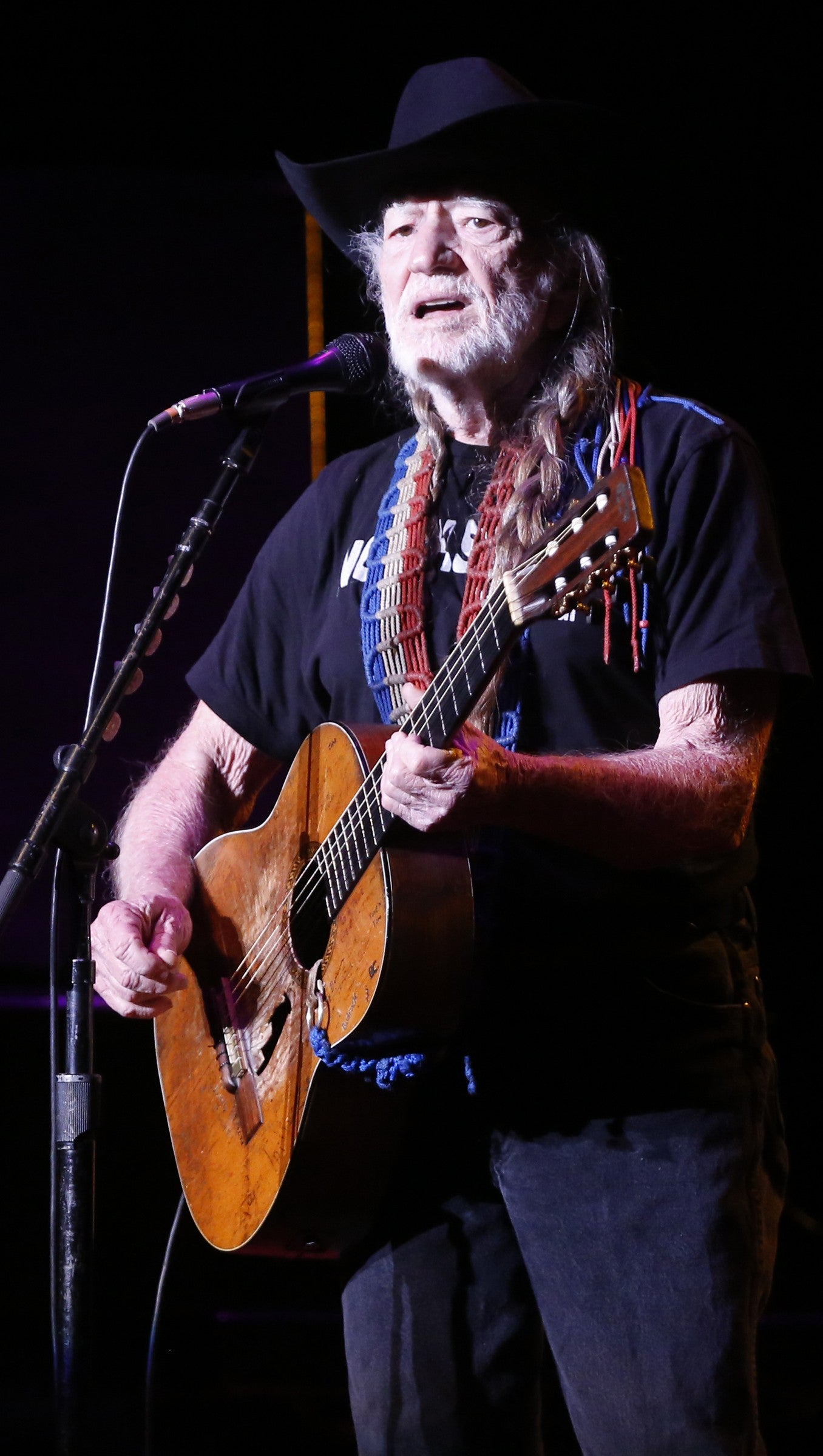 Willie Nelson performs on the IU Auditorium stage on October 21, 2015.
Annie – 1981, 1992, 2000, 2007, 2016
Annie, the Broadway and film musical that features a young redheaded girl's journey from an orphanage to adoption, has been capturing the hearts of theatre and movie fans since it made its Broadway debut in 1977. The production has been presented on our stage on five separate occasions. The original musical won seven Tony Awards, including Best Musical, and features legendary show tunes such as "It's the Hard Knock Life" and "Tomorrow."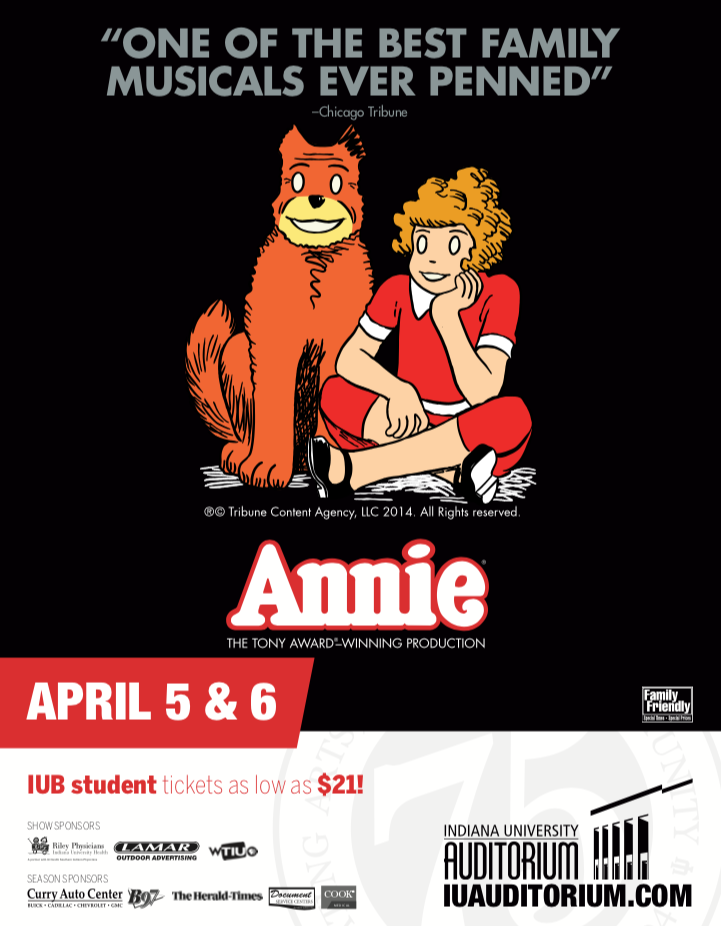 Advertisement from 2016.
Bob Dylan – 2000, 2004, 2009, 2017, 2019
Widely regarded as one of the greatest songwriters of all time, Bob Dylan has played live on our stage on five occasions. Much of his celebrated work came from his start in the 1960s with songs like "Blowin' in the Wind," "The Times They Are a-Changin'," "Like A Rolling Stone," and "Along the Watchtower," to name a few.
His lyrics and songwriting in the 1960s incorporated a range of political, social, and philosophical influences, something never before seen in popular music at the time. His songwriting influenced some of the biggest bands and songwriters the world has seen including The Beatles, Jimi Hendrix, Joni Mitchell, Neil Young, and more.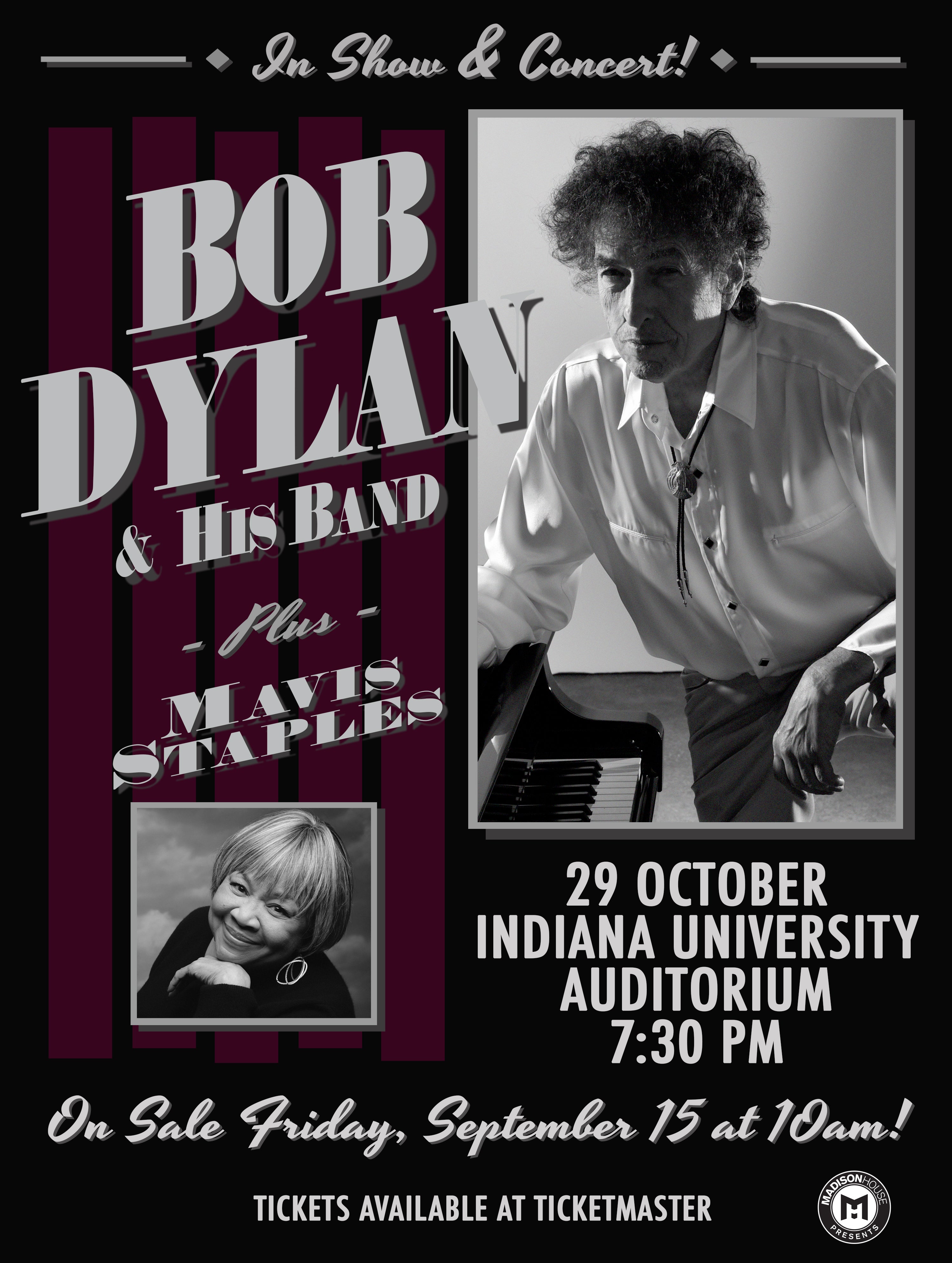 Advertisement from 2017.
Alvin Ailey American Dance Theater – 1968, 1973, 1980, 1991, 1997, 2014, 2019
An absolute gold standard in American dance, Alvin Ailey American Dance Theater has performed on the IU Auditorium stage on seven separate occasions. Most recently, the Company graced our stage as part of its 60th anniversary season celebration in March 2019.
What once was founder Alvin Ailey and a group of seven young African-American dancers has now become a pillar of African American dance tradition. Since its inception in 1958, the Company has gone on to perform for nearly 25 million people in 48 states, 71 countries, and six continents.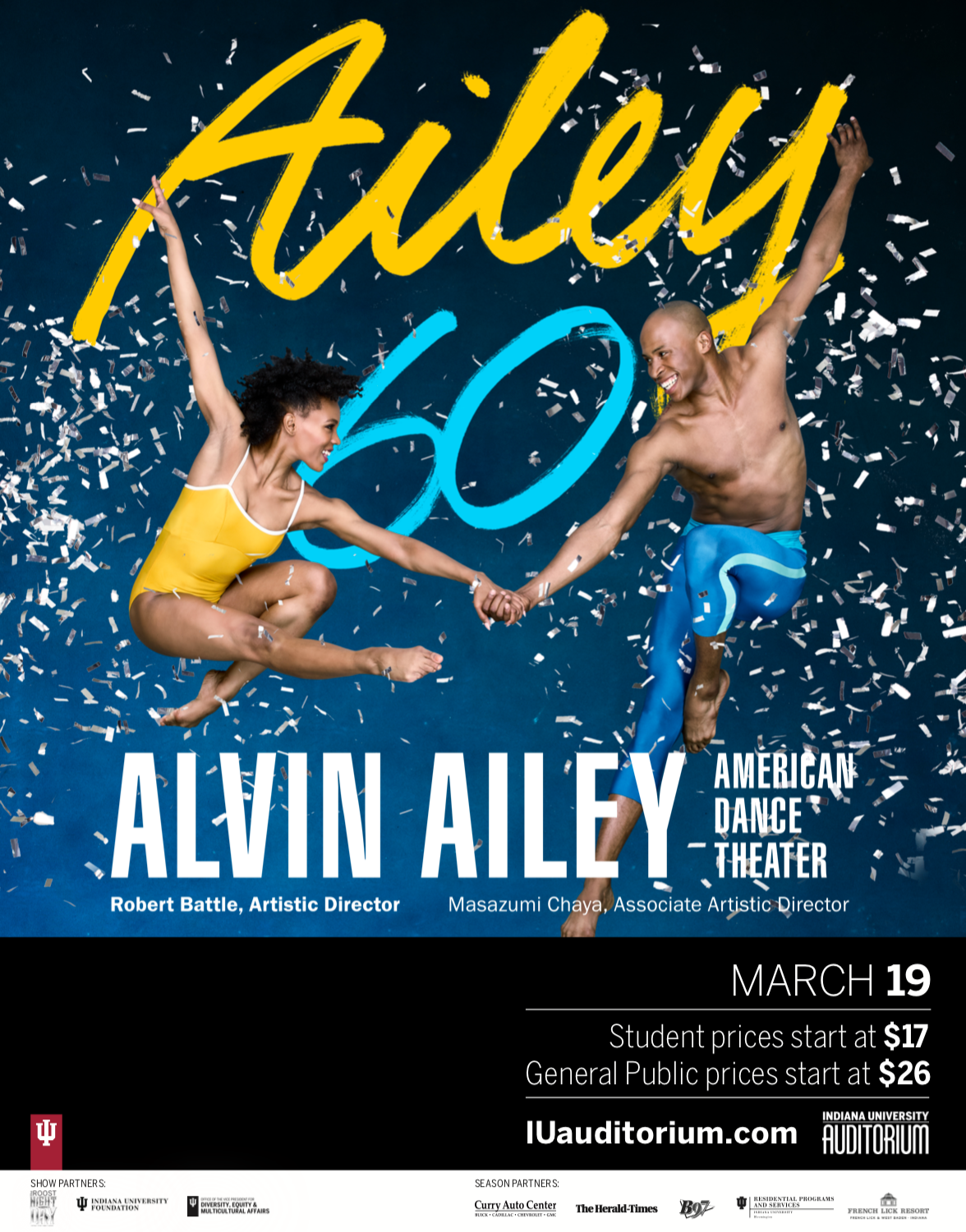 Advertisement from 2019.
RENT – 1999, 2001, 2004, 2007, 2016, 2019
IU Auditorium has hosted the Tony and Pulitzer prize-winning smash-hit musical RENT on six different occasions. We were the first venue in Indiana to welcome RENT to our stage in 1999, at a time when many theatres still shied away from presenting the show due to its content.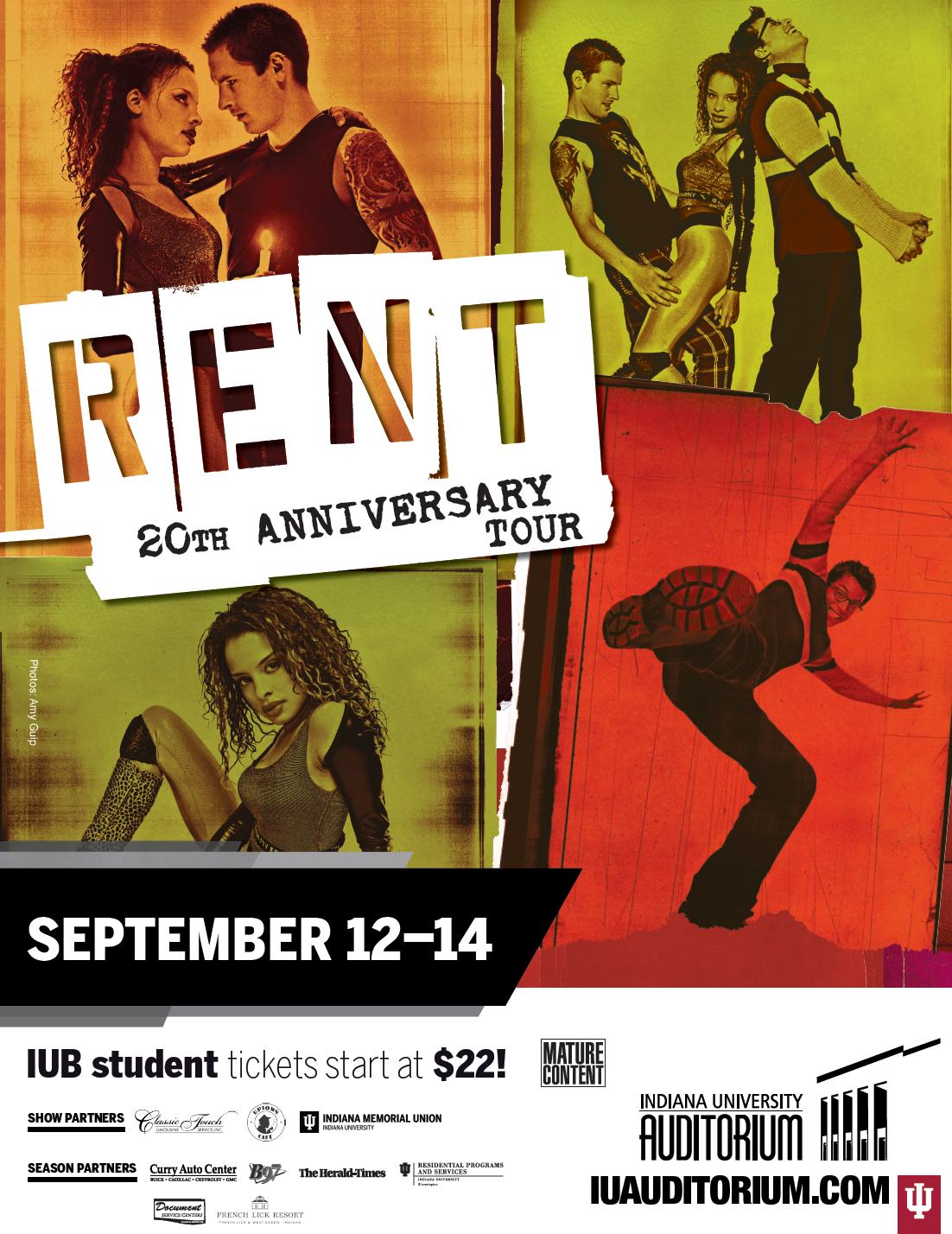 Advertisement from 2016
Ghost Brothers of Darkland County, October 2013
With music written by Indiana native John Mellencamp, a book by acclaimed author Stephen King, and musical supervision from well-known producer T Bone Burnett, Ghost Brothers of Darkland County began its American tour at IU Auditorium on October 10, 2013, before returning later in the month due to popular demand.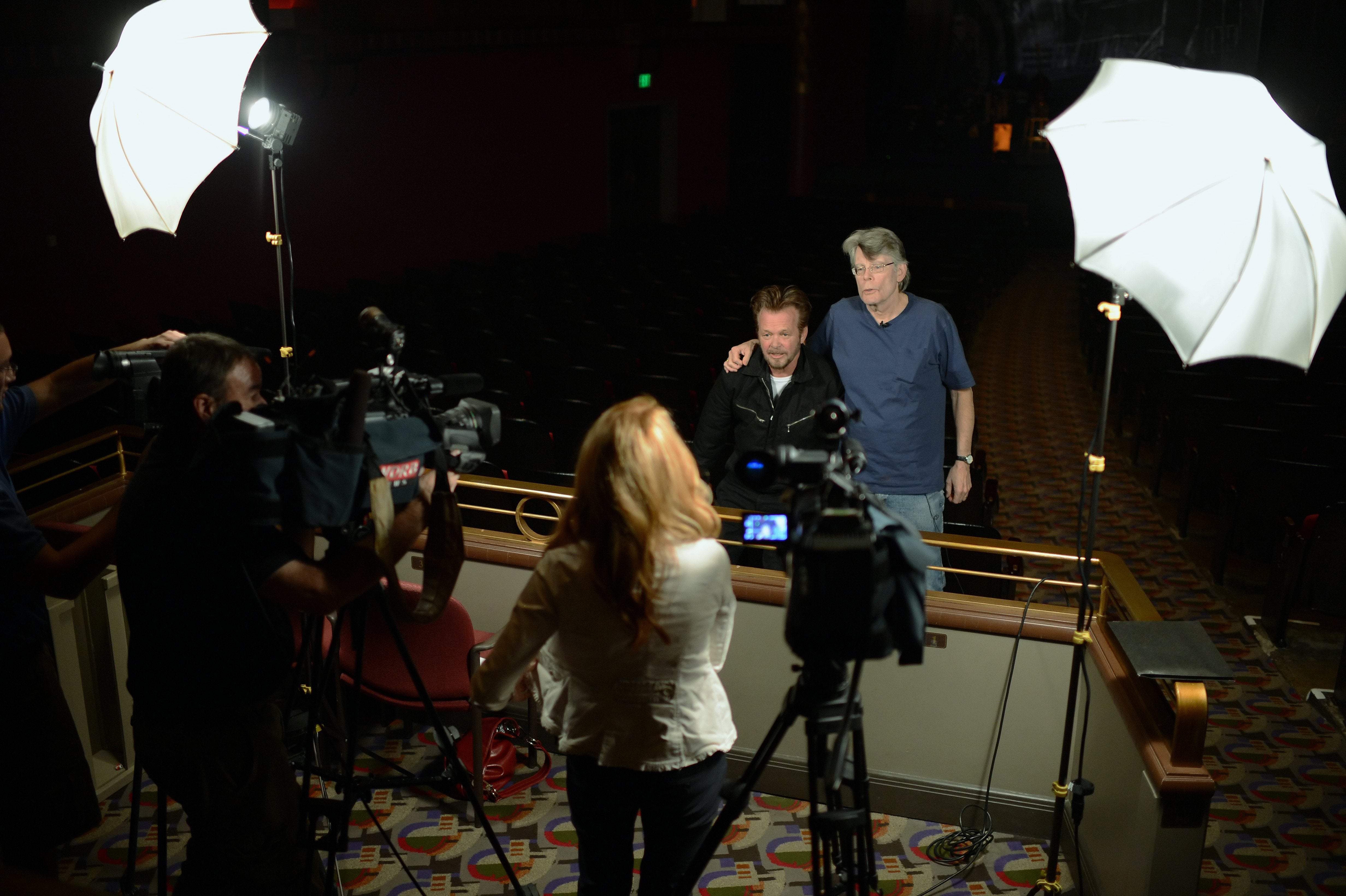 John Mellencamp and Stephen King interviewed during show rehearsals.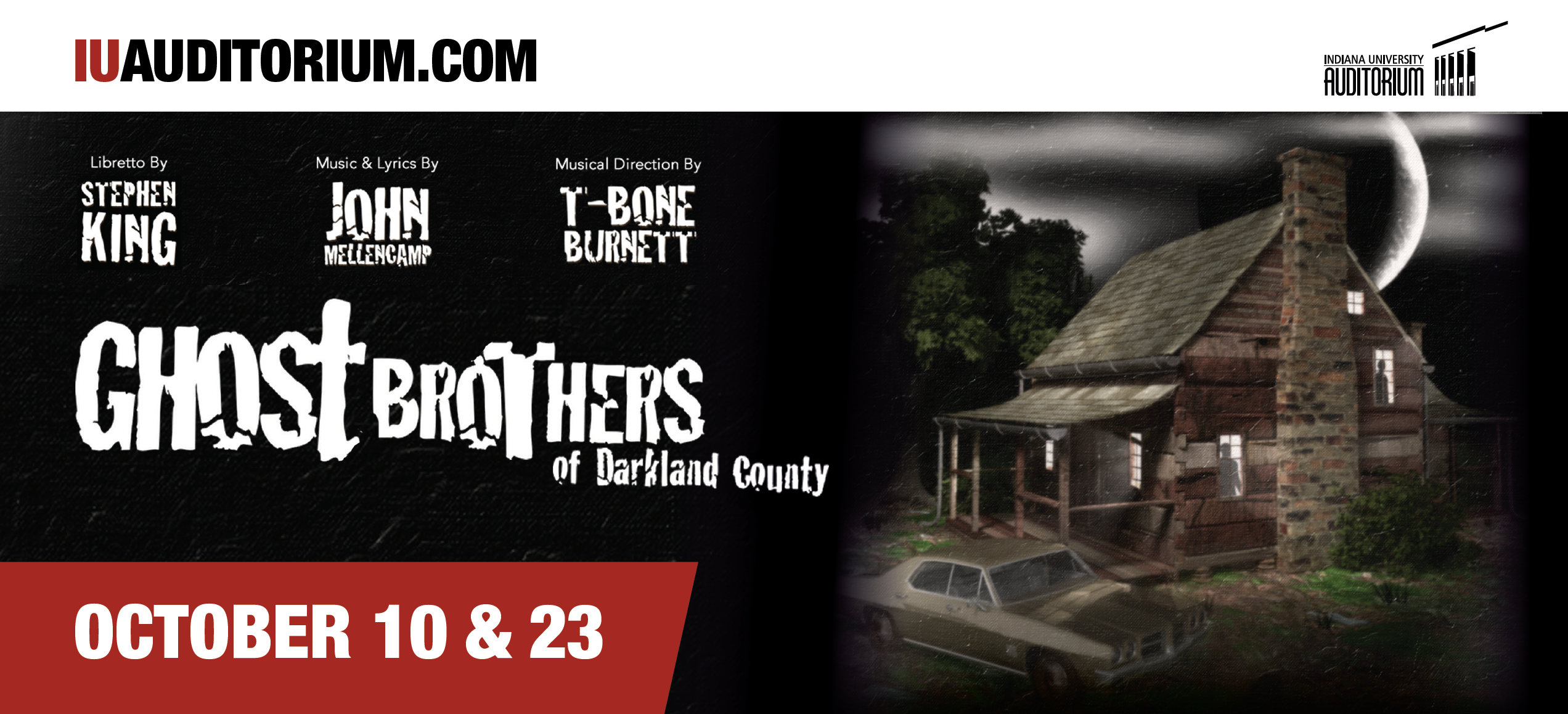 Advertisement from 2013.
Jon Stewart, September 30, 2011
Comedian Jon Stewart had audiences laughing for two stand-up sets on our stage on September 30, 2011. At the time, Stewart was the host of Comedy Central's The Daily Show, whereby the end of his run as host in 2015 he had amassed 22 Emmy Awards.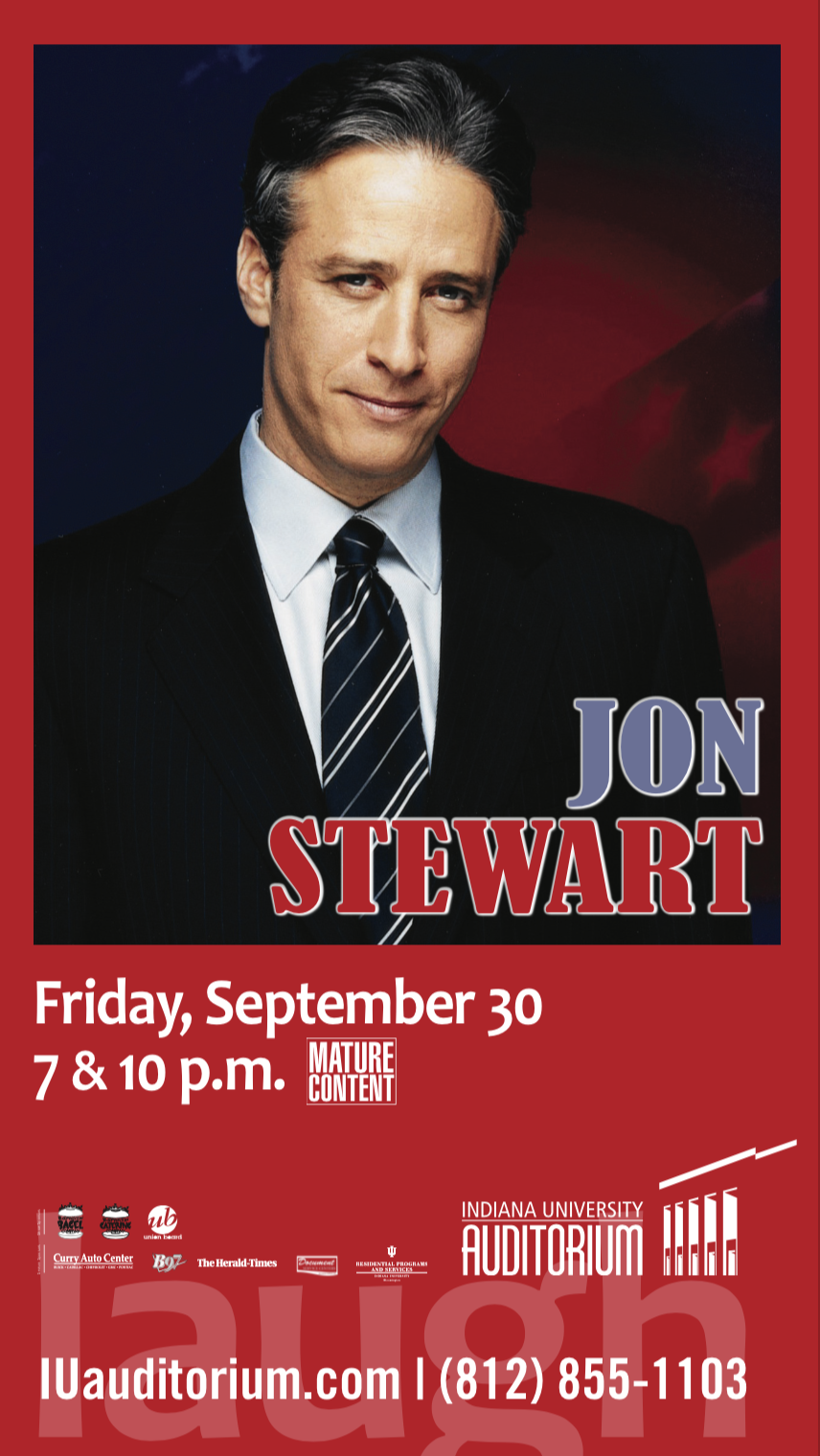 National Whale Symposium – November 1975
IU Auditorium played a part as host for the National Whale Symposium November 8–12, 1975. The symposium was a multidisciplinary public conference devoted to the study and celebration of whales, dolphins, and porpoises. Distinguished environmentalists, biologists, musicians, and scholars conducted programs that explored the nature of the mammals and their relationship to man.
The five days were full of discussions, lectures, panels, chamber and symphony orchestra concerts, traditional and folk music concerts, exhibits, and films.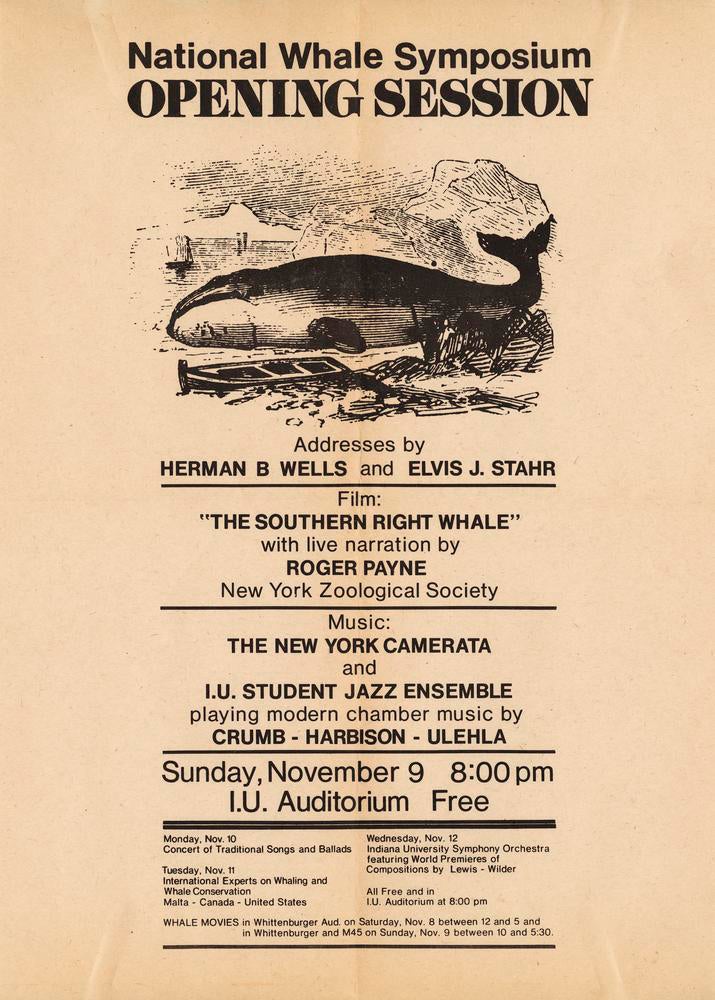 Peter Pan – 1951, 1968, 1983, 2013
The timeless story of Peter Pan has been performed on our stage in various productions in 1951, 1968, 1983, and 2013. Peter Pan was originally brought to life in the early 1900s by Scottish novelist and playwright J.M. Barrie. Barrie's creation has gone on to become a global cultural icon, symbolizing youthful innocence and escapism as Peter Pan spends his never-ending childhood having adventures leading the Lost Boys on the mythical island of Neverland.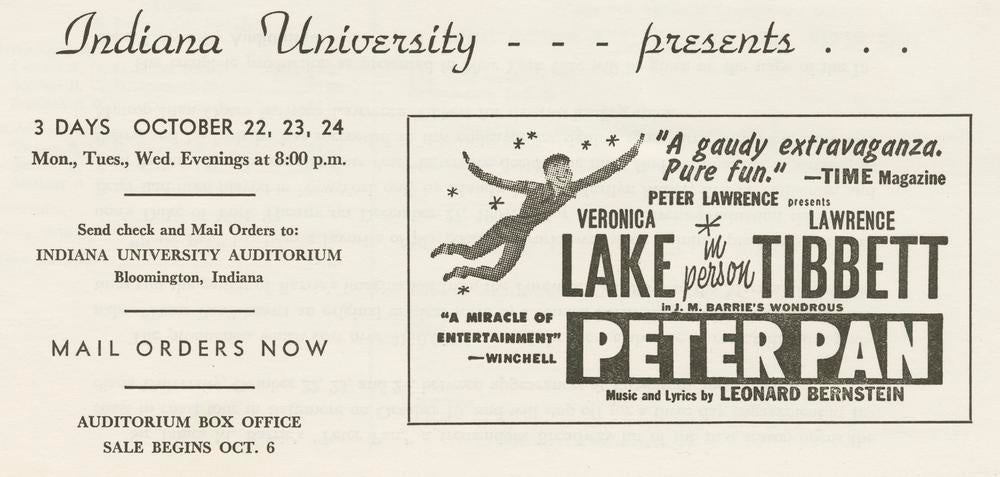 Advertisement from 1951.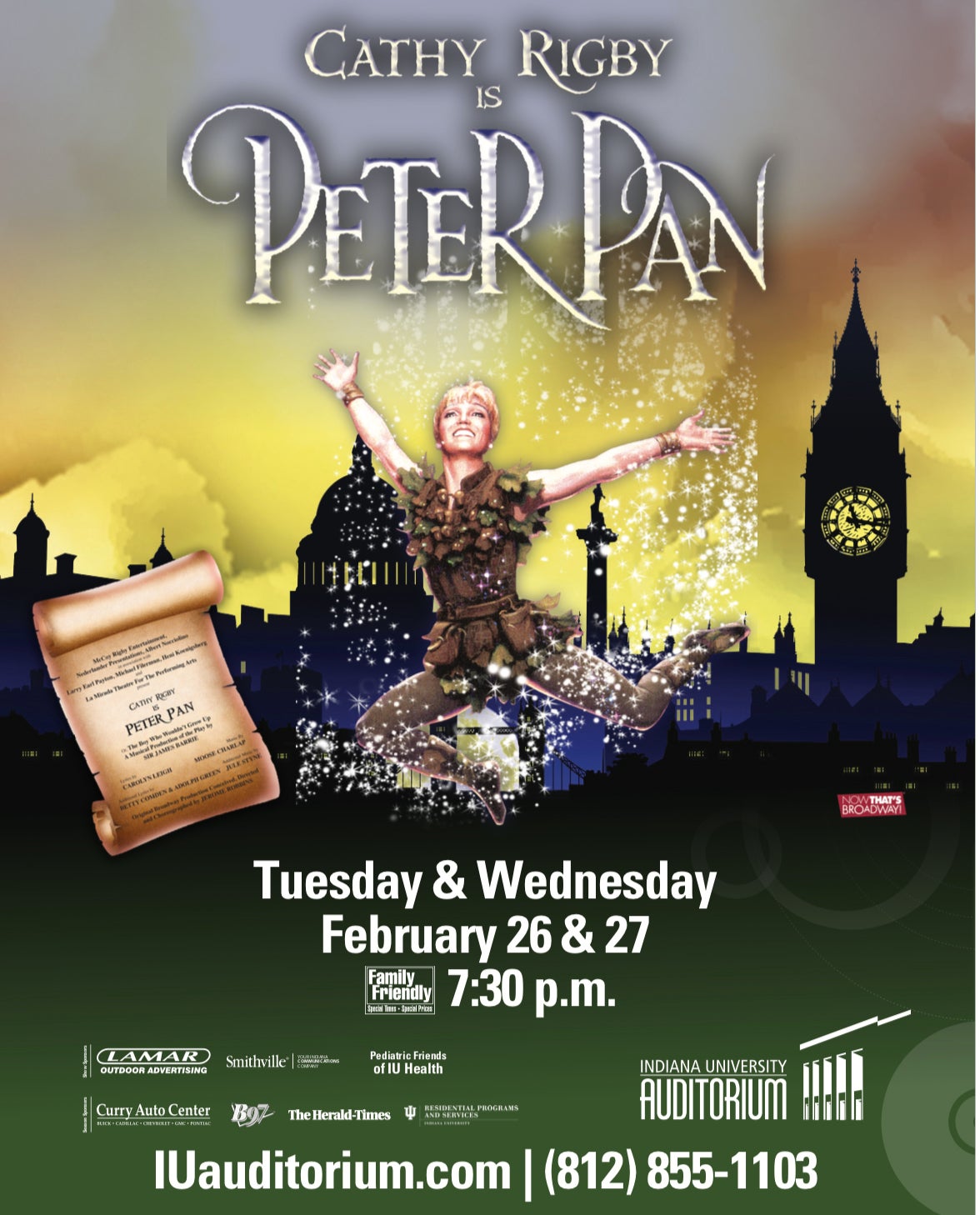 Advertisement from 2013.
Top Two Selling Broadway Shows in Same Season – 2019–2020
We hosted two weeklong Broadway runs as part of the 2019–2020 schedule, marking the first time IU Auditorium had ever hosted two weeklong productions in the same season. The Book of Mormon and Les Misérables combined over 16 performances to see over 27,000 patrons come through our doors to experience these Tony-winning productions.
The Book of Mormon became the top-selling Broadway show in Auditorium history and Les Misérables the second-best selling Broadway production ever since we opened in 1941. We appreciate all of you for joining us to experience these amazing events that were part of our 2019–2020 season as we celebrated IU's Bicentennial.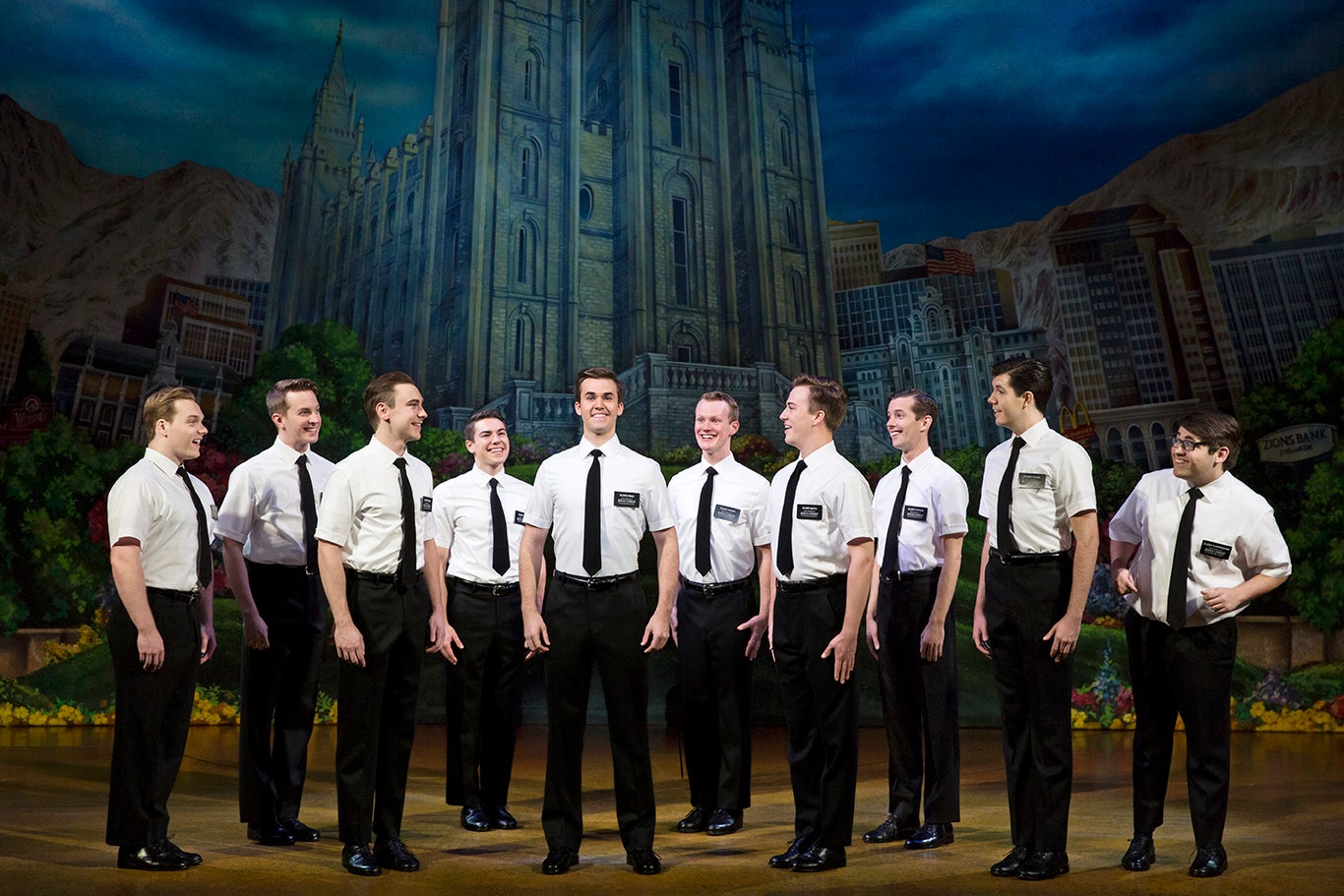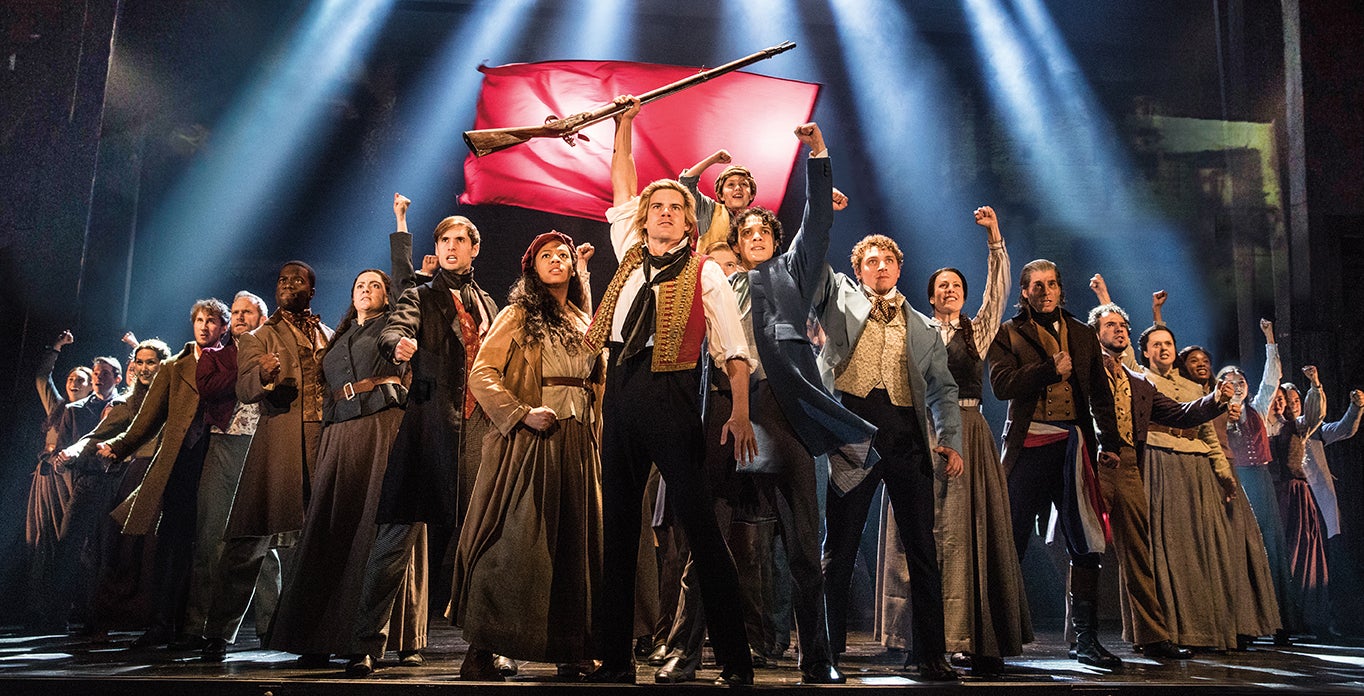 Chance the Rapper – October 29, 2014
Grammy Award winner Chance the Rapper performed at IU Auditorium on October 29, 2014. His 2016 mixtape Coloring Book earned three Grammy wins, including Best Rap Album, and in doing so it became the first streaming-only record to win a Grammy Award. The album peaked at No. 8 on the Billboard 200 chart.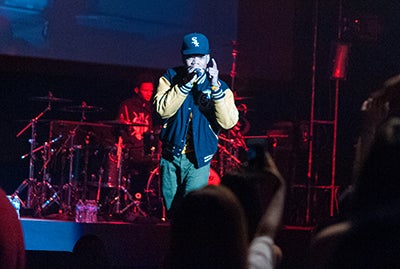 Chance has collaborated with the likes of Kanye West, Pharrell Williams, Childish Gambino, Macklemore, Mac Miller, and Schoolboy Q, to name a few. He was also a part of the group of artists who met with President Barack Obama in 2016 to discuss the My Brother's Keeperinitiative. His latest album, The Big Day, was released in July 2019 and debuted at No. 2 on the US Billboard 200, his highest-charting entry to date.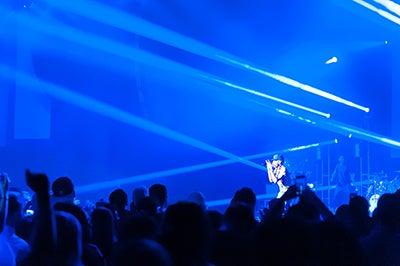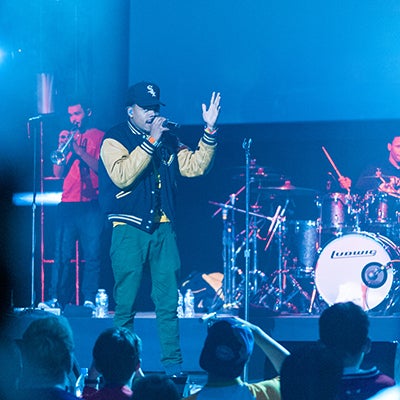 IU Auditorium Vault: Ben Folds – 1999, 2006, 2009
Widely regarded as one of the major music influencers of our generation, Ben Folds has performed three times at IU Auditorium. He first appeared on our stage as part of his group Ben Folds Five on October 19, 1999, and then returned twice with solo billing on November 9, 2006, and September 27, 2009.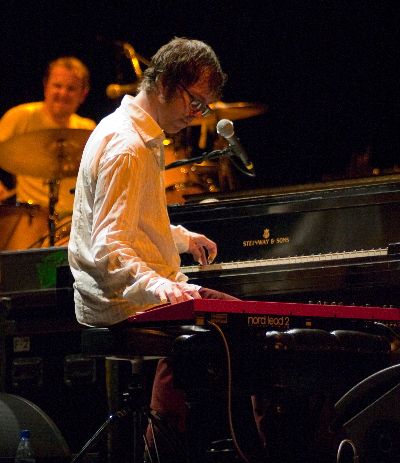 Folds has created an enormous body of genre-bending music that includes pop albums with Ben Folds Five, multiple solo albums, and numerous collaborative records. His last album was a blend of pop songs and his Concerto for Piano and Orchestra that soared to No. 1 on both the Billboard classical and classical crossover charts. For over a decade he's performed with some of the world's greatest symphony orchestras, and he currently serves as the first-ever artistic advisor to the National Symphony Orchestra at the Kennedy Center.
An outspoken champion for arts education and music therapy funding in our nation's public schools, Folds has served for over five years as an active member of the distinguished Artist Committee of Americans For The Arts (AFTA) and serves on the Board of AFTA's Arts Action Fund. He is also Chairman of the Arts Action Fund's ArtsVote2020 national initiative to advocate for a greater commitment to the nation's creative economy through improved public policies for the arts and arts education, and he hosts a podcast series of interviews on arts policies with 2020 candidates.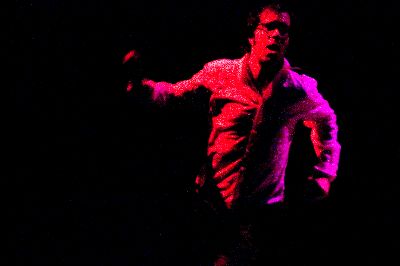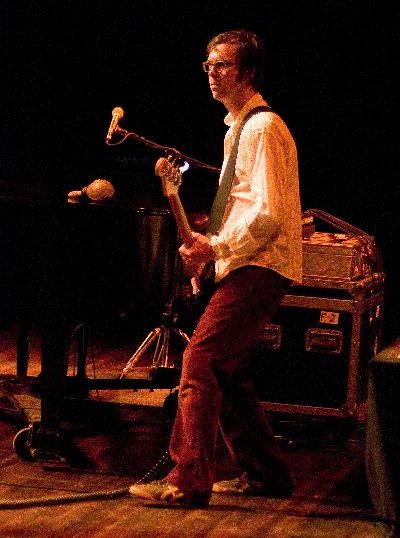 Photos from Ben Folds performance at IU Auditorium on November 9, 2006.
IU Auditorium Vault: Liberace – September 25, 1984
Most remembered for his extravagant costumes and trademark candelabra placed on the lids of his flashy pianos, Liberace was loved by audiences for his musical talent and unique showmanship. He played at IU Auditorium on September 25, 1984.
Liberace, born as Wladziu Valentino Liberace in Wisconsin in 1919, learned to play the piano by ear at the age of four. He appeared as a soloist with the Chicago Symphony Orchestra as a teenager and later gained notoriety with his television show in the 1950s. He appeared on numerous TV shows as well as on the big screen during his career, but found most of his joy and success with his live performances. He not only played the piano, but sang, danced, and joked on stage.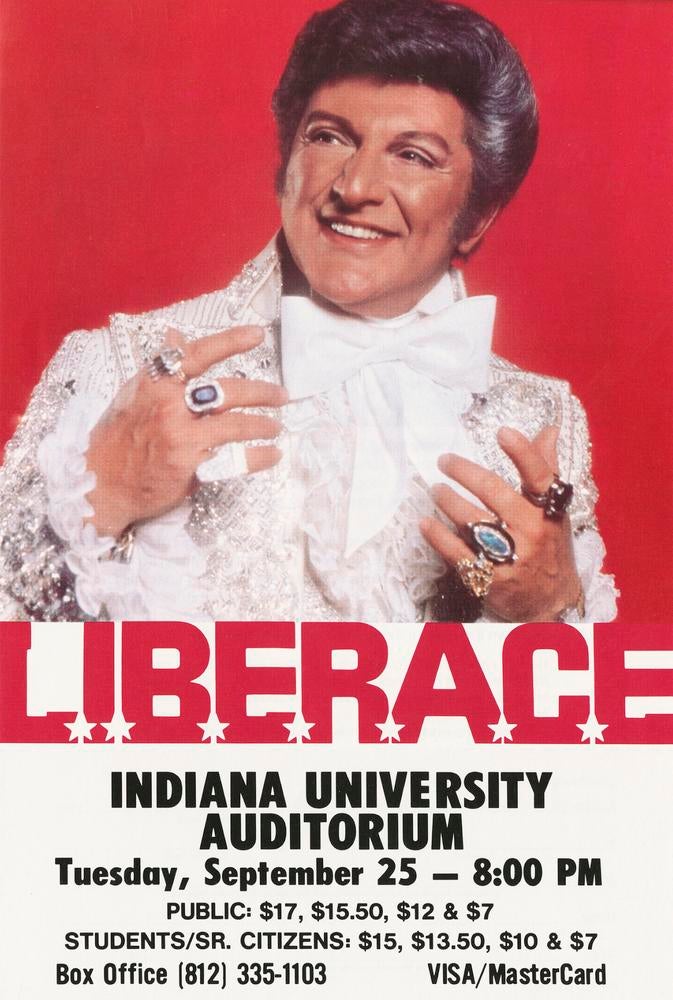 IU Auditorium Vault: The Temptations (1969, 1985, 2002) and Ain't Too Proud (2018)
The legendary Motown group that formed in Detroit in 1960, The Temptations would go on to record some of Motown's biggest hits in the 1960s and 1970s. The group released fourBillboard Hot 100 No. 1 hits and 14 R&B No. 1 singles, and they are known for classics like "My Girl," "Ain't Too Proud to Beg," "I Can't Get Next to You," and "Papa Was A Rollin' Stone," to name a few.
Named one of the "125 Greatest of All-Time Artists" by Billboard magazine, as well as one of the "100 Greatest Artists of All Time" by Rolling Stone Magazine, the group is truly a beloved national treasure. They performed three times at IU Auditorium, including with The Supremes led by Mary Wilson in 1985.
Things came full circle in June of 2018 as the Broadway stage production of Ain't Too Proud – The Life and Times of the Temptations made its Midwest debut at IU Auditorium for a special one-night-only performance. The performance was the culmination of a month of technical rehearsals on our stage as the production crew prepared the sets, lights, and sound for what would eventually land on Broadway and go on to earn 12 Tony nominations including a win for Best Choreography. The original cast album for the Broadway musical was also nominated for a Grammy Award and IU Auditorium is proud to have hosted the cast and crew before it went on to Broadway success.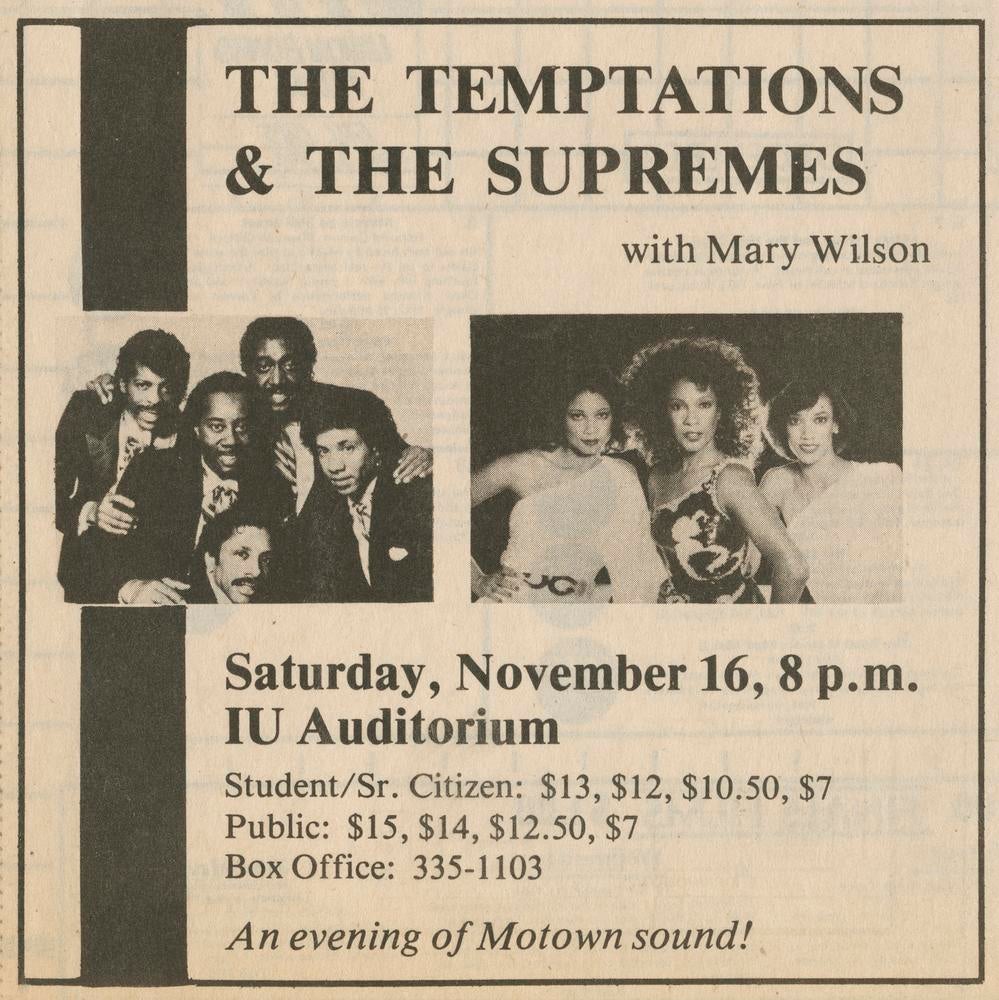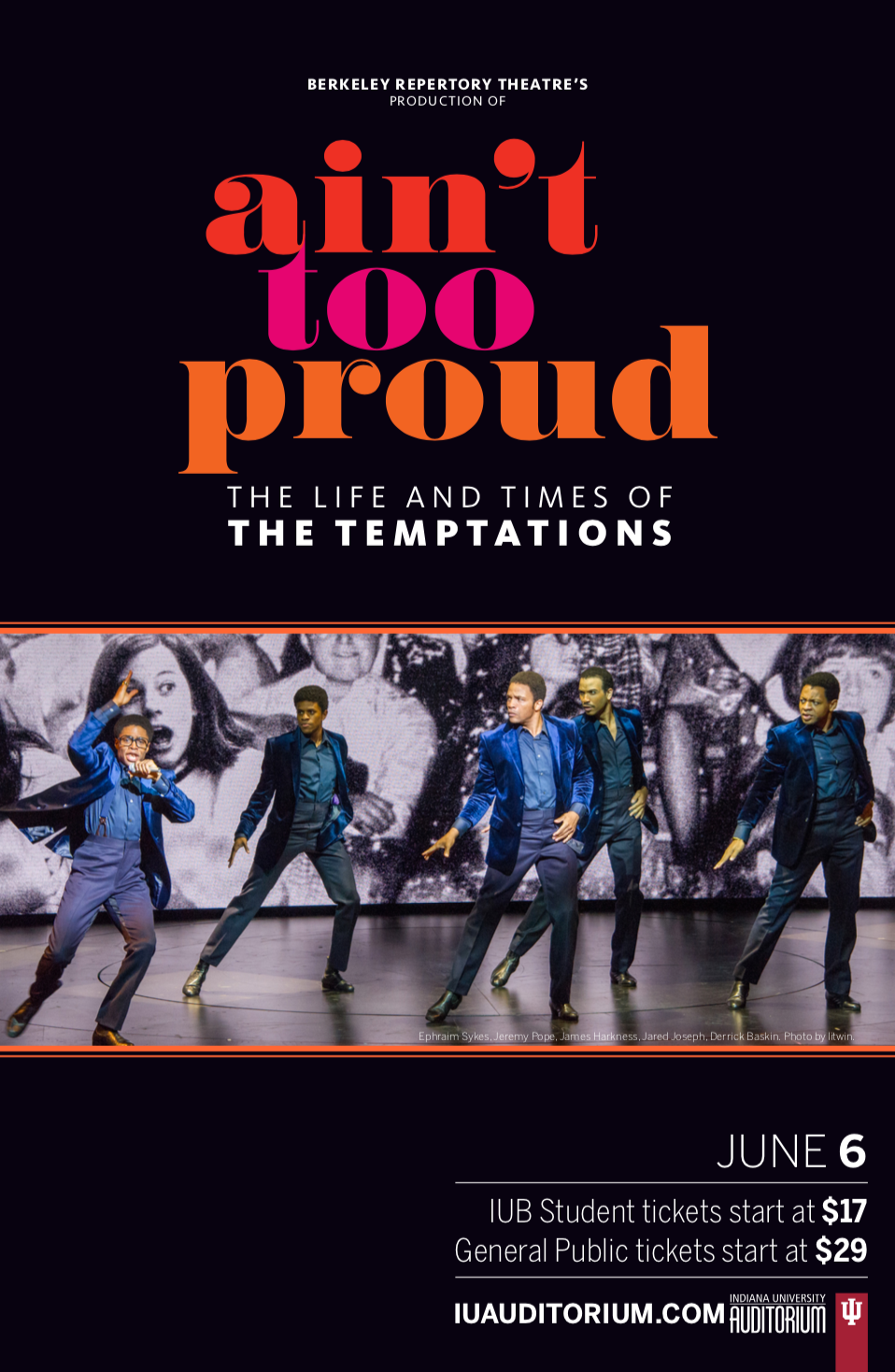 Steve Martin – 1977, 2018
Legendary comedian, actor, and musician Steve Martin has appeared on the IU Auditorium stage two times. His first visit came on October 7, 1977, and his most recent appearance was on September 22, 2018 with long-time friend, fellow comedian, and actor Martin Short.
Martin's career took off in the 1960s as a writer for The Smothers Brothers Comedy Hour and later as a frequent guest on The Tonight Show Starring Johnny Carson. In the 1970s, Martin performed to packed houses on numerous national tours (including his 1977 Bloomington stop) and went on to become a successful actor, author, playwright, and musician. His work has earned him Emmys, Grammys, and American Comedy Awards, as well as many others. He has starred in a number of timeless comedy movies including The Jerk, Father of the Bride, Planes, Trains, and Automobiles, and Three Amigos to name a few.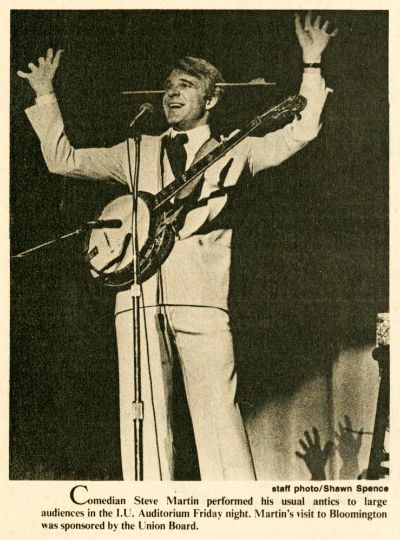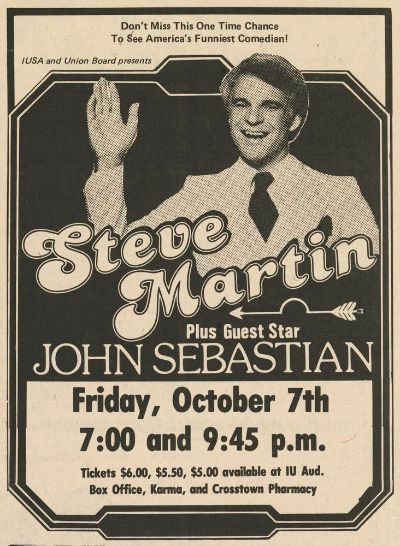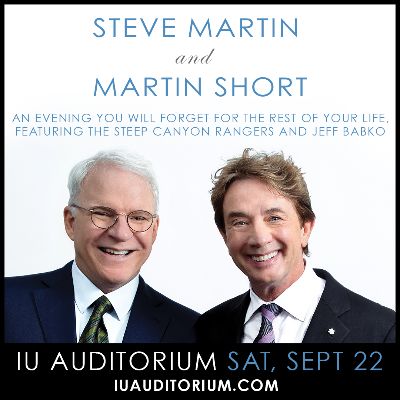 Muhammed Ali vs. Larry Holmes – October 2, 1980
In what was billed as "The Last Hurrah," IU Auditorium hosted a viewing of the Heavyweight Championship boxing match Larry Holmes vs. Muhammad Ali on October 2, 1980. The event was only available on closed-circuit television, and it was estimated the fight was watched by a then-record two billion viewers worldwide. Holmes won the match and retained his heavyweight title by TKO after 10 rounds.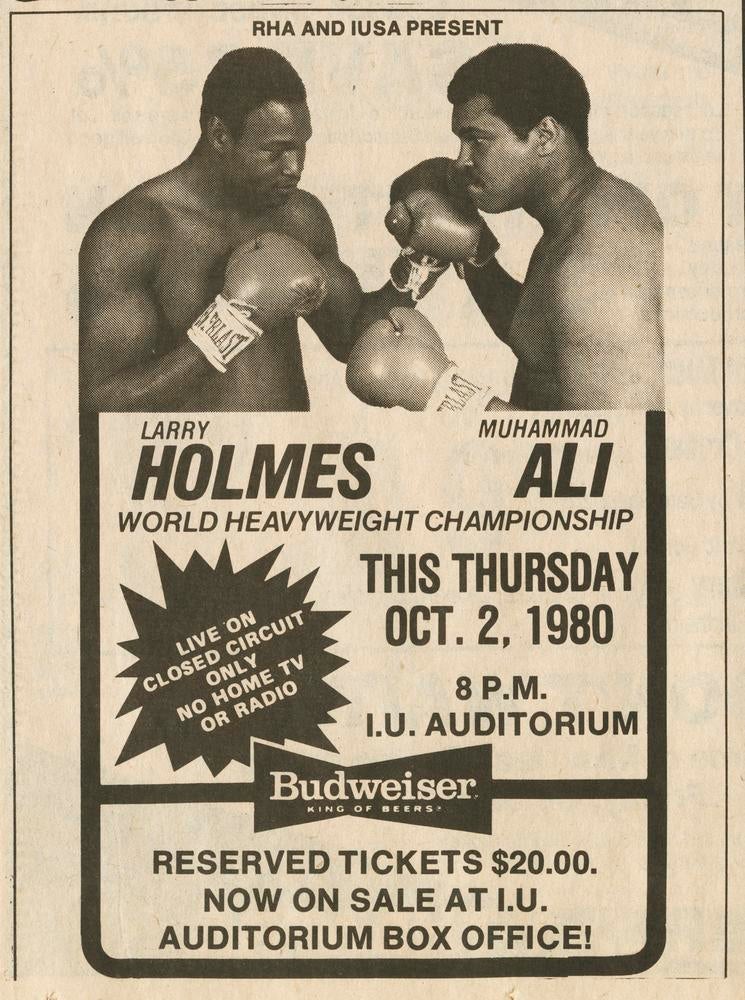 Maya Angelou – 2001, 2009
An acclaimed American poet, storyteller, activist, and autobiographer, Maya Angelou visited Indiana University on multiple occasions, including a pair of visits to IU Auditorium in 2001 and 2009.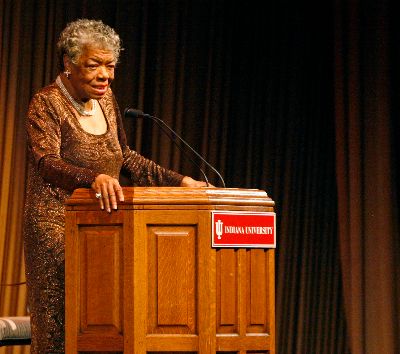 Maya Angelou at IU Auditorium on March 5, 2009.
As a civil rights activist, Angelou worked for Dr. Martin Luther King Jr. and Malcolm X. She was also an educator and served as the Reynolds professor of American Studies at Wake Forest University. She served on two presidential committees, for Gerald Ford in 1975 and for Jimmy Carter in 1977. In 2000, Angelou was awarded the National Medal of Arts by President Bill Clinton. In 2010, she was awarded the Presidential Medal of Freedom, the highest civilian honor in the U.S., by President Barack Obama. Angelou was awarded over 50 honorary degrees in her lifetime.
Angelou's most famous work, I Know Why the Caged Bird Sings (1969), deals with her early years in Long Beach, St. Louis, and Stamps, Arkansas, where she lived with her brother and paternal grandmother.
During her 2009 visit, she recited two of her poems from the IU Auditorium stage including "Caged Bird." Read "Caged Bird" poem below or watch an excerpt from CBS News by clicking here.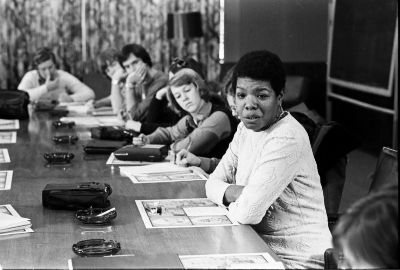 Maya Angelou with IU students at the Indiana Memorial Union in 1975.
Caged Bird
By Maya Angelou
A free bird leaps
on the back of the wind
and floats downstream
till the current ends
and dips his wing
in the orange sun rays
and dares to claim the sky.
But a bird that stalks
down his narrow cage
can seldom see through
his bars of rage
his wings are clipped and
his feet are tied
so he opens his throat to sing.
The caged bird sings
with a fearful trill
of things unknown
but longed for still
and his tune is heard
on the distant hill
for the caged bird
sings of freedom.
The free bird thinks of another breeze
and the trade winds soft through the sighing trees
and the fat worms waiting on a dawn bright lawn
and he names the sky his own
But a caged bird stands on the grave of dreams
his shadow shouts on a nightmare scream
R.E.M. – Septmber 6, 1985
Athens, Georgia-based rock band R.E.M. played at IU Auditorium on November 8, 1985. The opening band for the show was 10,000 Maniacs. R.E.M. formed in 1980 with founding members Michael Stipe, Bill Berry, Peter Buck, and Mike Mills. The band released 15 albums, toured the world, won multiple Grammy Awards, were inducted into the Rock and Roll Hall of Fame in 2007, and left a lasting legacy of great songs that defined an era by the time they called it quits in 2011.
On the heels of their Auditorium concert, R.E.M. returned to Bloomington in 1986 to record their fourth studio album Lifes Rich Pageant at John Mellencamp's studio. This was all in a time when MTV's musical influence was stronger than ever and Mellencamp had just released his acclaimed album Scarecrow.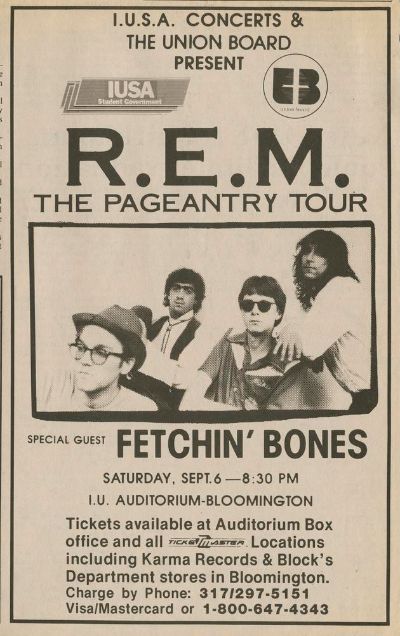 Ray Charles Performed at IU Auditorium Five Times
Ray Charles, the legendary musician who pioneered the genre of soul music starting in the 1950s, visited IU Auditorium on five different occasions in 1966, 1970, 1985, 1992, and 2000. Charles combined blues, gospel, R&B, rock, country music, and jazz to create groundbreaking hits such as "Georgia On My Mind," "Hit The Road Jack," and "I've Got a Woman." And who could forget his timeless rendition of "America The Beautiful."
Charles won an astounding 17 Grammy Awards for his work and is one of the most influential musicians of all time. He left an indelible mark on contemporary music all over the world.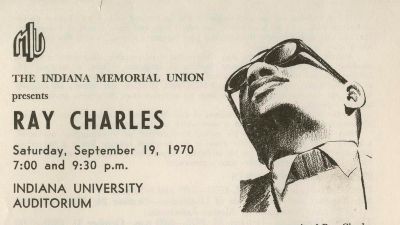 Simon and Garfunkel – February 24 and 25, 1968
One of the greatest duos in musical history, Simon and Garfunkel, appeared for two nights on the IU Auditorium stage on February 24 and 25, 1968. They appeared in Bloomington during a turbulent election year in the midst of the Vietnam War and Civil Rights movement, and in an era when some of the greatest popular music ever written was being released. Paul Simon and Art Garfunkel were a major part of that 1960s musical era as they were in the prime of their career together when they played on our stage.
Prior to their stop in Bloomington, Paul Simon and Art Garfunkel's No. 1 hits "Mrs. Robinson" and "The Sound of Silence" were featured in the 1967 classic film The Graduate. "Mrs. Robinson" was a part of the group's No. 1 album Bookends, which was released just over a month after they appeared at IU Auditorium. The song and the album, which also featured their well-known song "America," earned Simon and Garfunkel three Grammy Awards in 1968.
The duo is also known for the No. 1 songs "The Boxer" and "Bridge Over Troubled Water" which were released in January 1970 as part of their final studio album together, Bridge Over Troubled Water. That album had huge commercial success reaching No. 1 worldwide.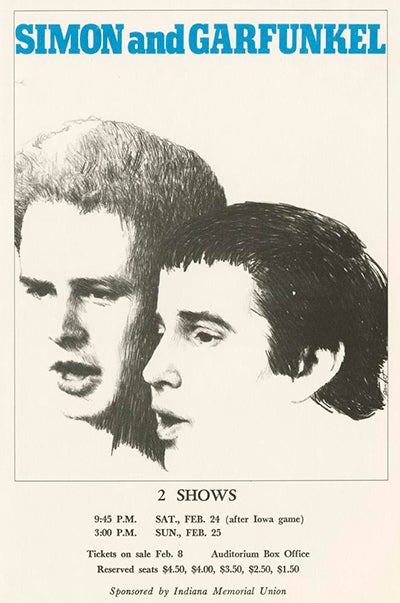 Legends Duke Ellington, Louis Armstrong, and Miles Davis
In the 1950s and 1960s, IU Auditorium hosted what some would consider a Mt. Rushmore of jazz musicians:

Duke Ellington – April 4, 1951 and April 3, 1972
Duke Ellington performed twice on the IU Auditorium stage. In a career that spanned over half a century, this pianist and band leader won 11 Grammy Awards and is known for songs such as "It Don't Mean a Thing (If It Ain't Got That Swing)," "Satin Doll," and "Take the A Train" to name a few.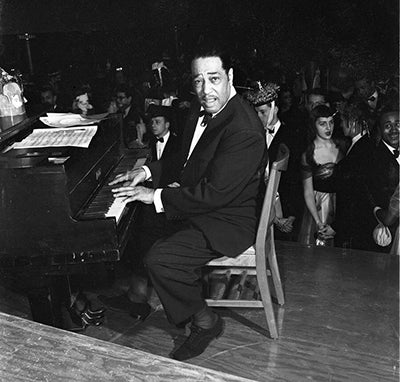 Louis Armstrong – November 21, 1958
Louis Armstrong made his lone IU Auditorium appearance in the late 1950s. His influence on the development of jazz is immeasurable as he too had a career spanning over 50 years on trumpet and has one of the most recognizable voices in music history. Some of his greatest recordings included "What a Wonderful World," "When the Saints Go Marching In," "Summertime," and "Dream a Little Dream of Me" alongside the legendary Ella Fitzgerald.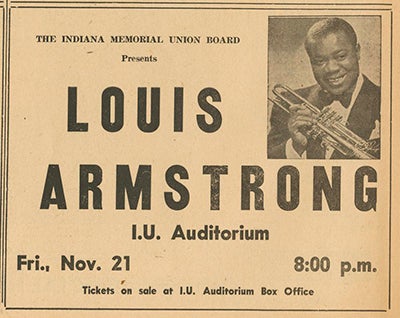 Miles Davis – March 24, 1962
Another pillar in the history of jazz music, Miles Davis appeared in Bloomington in 1962. The trumpeter, bandleader, and composer was an eight-time Grammy winner and his biggest hits include "Stella by Starlight," "Blue in Green," and "Bye Bye Blackbird."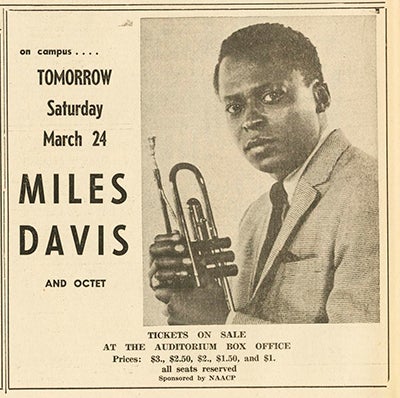 David Letterman and The Spinners – April 25, 1981
Just a year prior to becoming the host of Late Night on NBC which followed The Tonight Show starring Johnny Carson, Indiana native David Letterman appeared at IU Auditorium as part of a Little 500 Variety Show with The Spinners. Letterman would go on to spend 33 years in late-night TV including his 22-year stint on the Late Show with David Letterman on CBS.

The Spinners, a former Motown act with a string of top 40 hits in the 1960s and 1970s, were known for major hits including "Working My Way Back to You," "I'll Be Around," and "Could It Be I'm Falling In Love."