2019–2020 Educational Outreach Highlights
Kids Night on Broadway – November 14, 2019
This past November, in correlation with STOMP, we hosted our annual Kids Night on Broadway event, and filled the Auditorium lobby with family-friendly games and activities prior to that night's performance. Over 400 kids participated in a variety of activities related to STOMP such as a seek and find, a photobooth, crafting paper trash can lids, and the awesome WonderLab science of sound activities.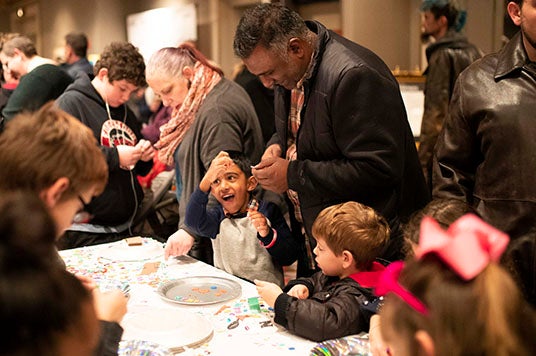 Give The Magic – November 14, 2019
Also this year, Kids Night on Broadway was paired with our Give the Magic program, which provides free show tickets to underserved youth and their families. Thanks to our friends at IU Health Riley Physicians and to our Circle of Friends, we were able to reward a record amount of 351 tickets to eight different community organizations, more than doubling the number of tickets distributed in previous years.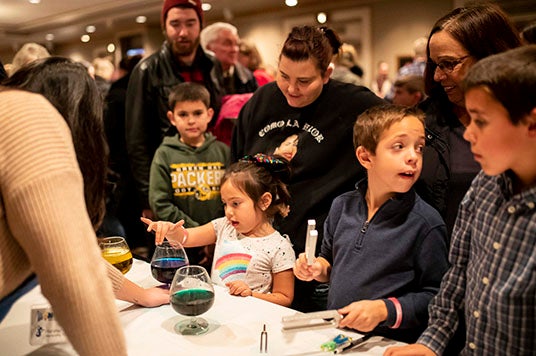 For a number of the children that attended, it was their first time visiting IU Auditorium and seeing a live performance. We were so delighted to be able to allow these families to experience our high caliber arts programming, and we look forward to providing opportunities like this again in the future.
IU Auditorium Kids on Campus – February 21, 2020
On Friday February 21, IU Auditorium welcomed 2,000 middle school students through our doors to take part in a special lecture demonstration with Bill T. Jones/Arnie Zane Company as part of our annual Auditorium Kids on Campus program. Our local students were able to ask questions, learn about the rehearsal process, and gain an understanding of the role of modern dance in society. Thank you to all of our friends and partners who provided this special opportunity for the second year in a row!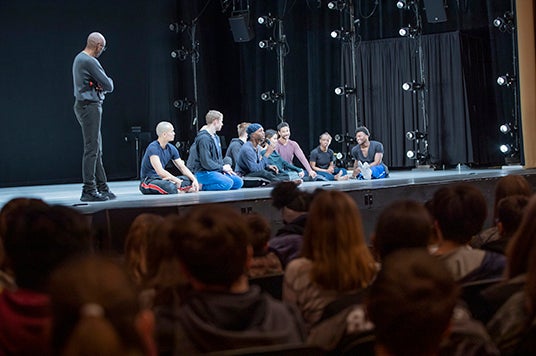 Batchelor Middle School Visit – January 21, 2020
As part of the Minnesota Orchestra's residency in January, a quartet visited Batchelor Middle School to meet with the school's orchestra students. During the visit, the quartet played several pieces, and they shared a bit about who wrote the pieces, why the musicians loved them, and how they all work together to play them.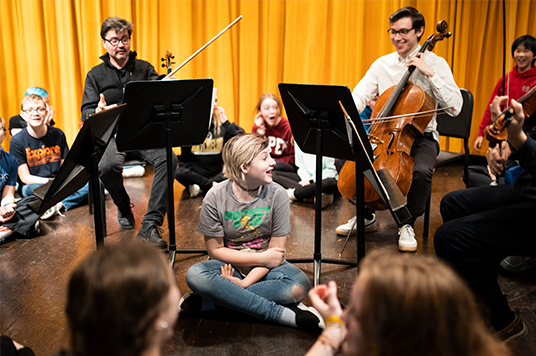 For the last piece that they performed, they invited all of the students to sit around them on stage so that they could get an up-close look at how the quartet members communicate to each other while playing. This was a fun and unique experience for the students and it encouraged them to dive deeper into their own orchestral work. The quartet left them with the message that even if they don't go on to play music professionally, music can still be a valuable part of their life.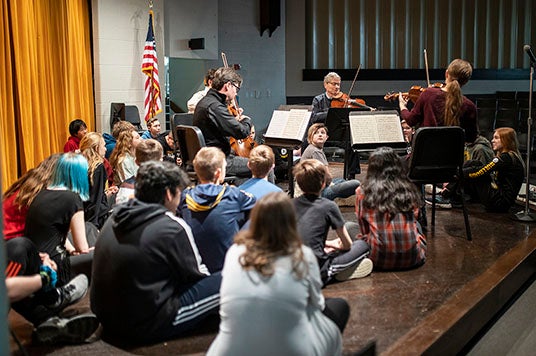 ​
Discussion and Demonstration with Béla Fleck, Edgar Meyer, and Zakir Hussain – October 5, 2019
Prior to Béla Fleck, Edgar Meyer, and Zakir Hussein's performance at IU Auditorium last October, the three musicians participated in a discussion and demonstration with students and faculty from the Jacobs School of Music, Dhar India Studies program, Folklore and Ethnomusicology, the Singing Hoosiers, and the Archives of Traditional Music.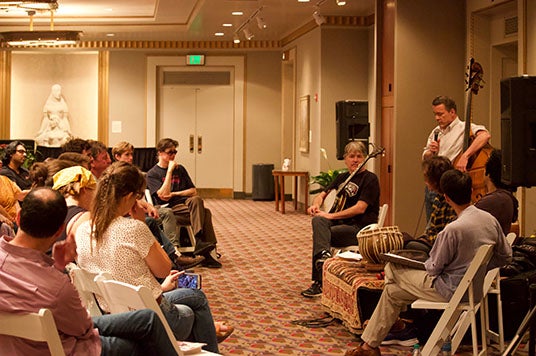 During the discussion the three artists and their special guest, Rakesh Chaurasia, talked about topics such as global music, their personal musical traditions, and how they work together to blend their different musical styles. Following the discussion, each musician gave a brief solo overview of their instrument, and then they came together to perform a piece that showcased the beautiful music that comes from collaboration.
Straight No Chaser Q&A With Edgewood Junior High School – December 13, 2019
In December, before they took the IU Auditorium stage, a few members of Straight No Chaser took some time to meet with members of Edgewood Junior High's show choir. For some of these students it was their first time visiting the Auditorium, and they were in awe as they entered our Hall of Murals.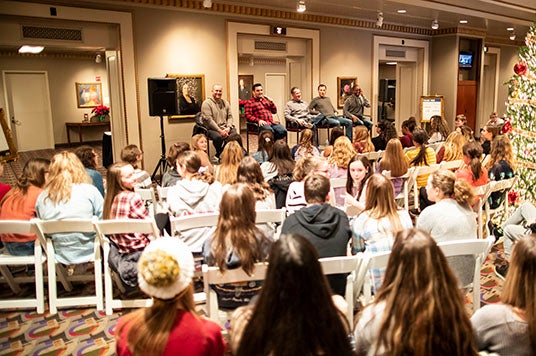 Straight No Chaser took questions from the students and their parents about how they got started, what life on tour is like, and what it feels like to be on stage in front of so many people. After everyone got their questions answered, the Straight No Chase asked the choir to perform a few of their songs for them. That interaction and opportunity was priceless as the SNC guys not only enjoyed the impromptu performance, but also provided great feedback and encouraged the students to continue performing and to stay involved in the arts.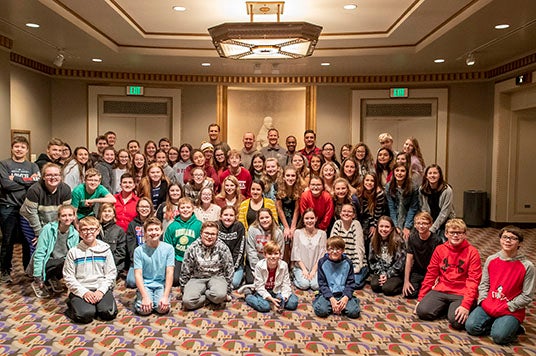 Bill T. Jones/Arnie Zane Company Residency – February 2020
A little over a week prior to their performance at IU Auditorium, two Bill T. Jones/Arnie Zane Company members (Shane Larson and J. Bouey) came to Bloomington to work with IU students and community dancers that would later be part of the work they would be presenting on the Auditorium stage. They also spent some time with IU students in the classroom. Their visit started off with a discussion with Maria Hamilton Abegunde's Memory, Trauma, and Healing class, where the dancers spoke not only about their work and journey in dance, but also about the ways movement and dance can be used to heal and remember.
Shane and J. then went on to teach masterclasses for an IU Contemporary Dance class and for the African American Dance Company. They also took some time with these groups to answer questions and talk about how they got started in dance and what their lives are like as professional dancers.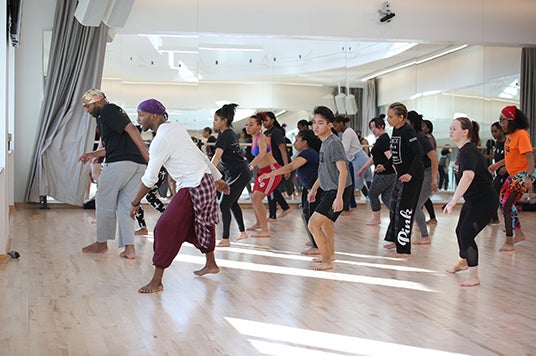 The next day, the company dancers taught a masterclass on choreography to an Approaches to Dance-Making class, and another masterclass specifically for freshmen Contemporary Dance students. During this visit, Shane and J. became incredible resources for the students that they worked with, and the next week the students were treated with tickets to the Bill T. Jones/Arnie Zane Company public performance. A number of the students they worked with, along with Bloomington community dancers, were part of the IU Auditorium co-commissioned work titled What Problem?