For One Night Only, Yo-Yo Ma and Kathryn Stott to Perform at IU Auditorium on April 26
BLOOMINGTON, Ind. – World-renowned musicians and Grammy Award-winning duo Yo-Yo Ma and Kathryn Stott will perform a breathtaking set of music for one night only at IU Auditorium on Tuesday, April 26 at 8 p.m.
The world's most beloved cellist and his longtime collaborator and renowned pianist will come together once again to present a moving program on the IU Auditorium stage. Ma, whose multi-faceted career is a testament to his enduring belief in culture's power to generate trust and understanding, and Stott, a fixture on the international music scene for decades, have performed together for more than 30 years.
Their Bloomington performance will feature music from an array of composers including works of Dvorak, Piazzolla, Mendelssohn, and Sibelius, to name a few.
"It's very rare to get the opportunity witness a pair of musicians of this caliber together on one stage, and we are honored to bring Yo-Yo Ma and Kathryn Stott to Bloomington for this unforgettable evening," IU Auditorium Executive Director Doug Booher said. "Tickets are moving quickly, and we suggest to anyone interested in experiencing this special performance to get theirs before it is too late."
This renowned duo met in 1978 and started collaborating in 1985, and since have traveled the globe for a variety of musical adventures. Their collaborations include two Grammy Award-winning albums, Obrigado Brazil and Obrigado Brazil–Live in Concert, and the pair's most recent album, Songs of Comfort and Hope.
Ma and Stott strive to use their music and creativity to foster connections that stimulate the imagination and reinforce communities. Both have worked to bring artists from around the world together to create and share music, Ma through establishing the collective Silkroad, and Stott through working as the artistic director of the Australia Festival of Chamber Music.
Yo-Yo Ma and Kathryn Stott at IU Auditorium is presented in partnership with Morgenstern Books and WFIU. IU Auditorium's 2021–2022 season is presented by B97, Curry Auto Center, The Herald Times, French Lick Resort, and World Arts Inc.
For more information on this performance and the rest of the 2021–2022 season, visit IUauditorium.com.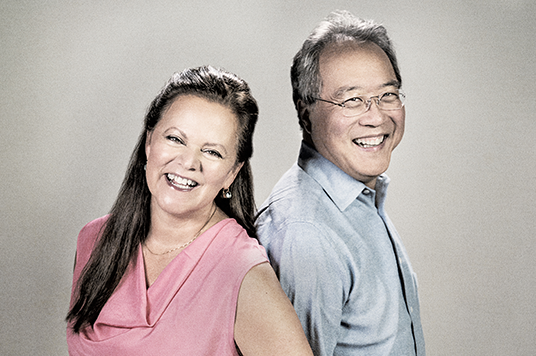 Two world-renowned musicians will present a moving program of breathtaking music.