IU Auditorium to Premiere Steinway D Concert Grand Piano January 22
BLOOMINGTON, Ind. – With the help of a transformational gift from Auditorium Board of Advisors members Linda Hunt and Tim Morrison, as well as the generosity of the Auditorium Board of Advisors and Circle of Friends, IU Auditorium has been able to purchase a Steinway D Concert Grand Piano to support the high-caliber performances and artists featured each year at the Auditorium. This is the culmination of the first campaign for the recently-established Performance Enrichment Fund that supports the Auditorium's mission to create engaging world-class arts and event experiences for the community.
This one-of-a-kind instrument was handpicked to meet the unique needs of the venue and is a critical financial investment for the Auditorium to be able to continue to attract the world's leading musicians to Bloomington. IU Auditorium extends its sincere gratitude to the generous supporters who made this investment in the future of the organization, and in the IU and Bloomington communities.
"Installation of this spectacular piano at IU Auditorium is one important component of the university's widespread commitment to the arts," Auditorium Board of Advisor and Circle of Friends member Linda Hunt said. "The quality of the instrument will attract world-renowned musicians to perform here and will, no doubt, inspire young musicians to pursue their dreams to someday play on the Auditorium stage."
The public will have the opportunity hear the piano live for the first time on January 22 when renowned pianist Juho Pohjonen performs Grieg's Piano Concerto in A Minor alongside the Grammy Award-winning Minnesota Orchestra on the Auditorium stage. The Orchestra's program will also include Beethoven's Leonore Overture No. 3 and Sibelius' Symphony No. 5.
Tickets for the Minnesota Orchestra at IU Auditorium are available at IUauditorium.com with general public tickets starting from $30 and IUB student tickets from $15.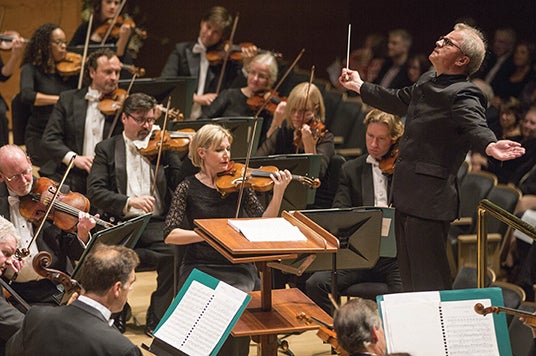 The Grammy Award-winning orchestra with renowned pianist Juho Pohjonen..