Grammy Award-Winning Soweto Gospel Choir Kicks Off 2022–2023 Season October 18
BLOOMINGTON, Ind. –Three-time Grammy-winning Soweto Gospel Choir will bring joy and inspiration to Bloomington with their concert of HOPE: It's Been a Long Time Coming, commemorating South Africa's freedom movement and the civil rights movement in the United States. This amazing night of music will take place on Tuesday, October 18 at 7 p.m. and is the first event of IU Auditorium's 2022–2023 season.
This unforgettable evening will start with a rousing program of South African freedom songs that inspired their Rainbow Nation. Then it will move to the United States with beautiful and heartfelt renditions of the music of the civil rights movement featuring works by legendary artists, including Billie Holiday, James Brown, Otis Redding, Curtis Mayfield, and the one and only Aretha Franklin.
"Soweto Gospel Choir is one of the most inspiring choral ensembles in the world today and we are thrilled to host them for our first show of the 2022–2023 season," Managing Director Maria Talbert said. "The IU and Bloomington community has always supported music culture from around the world, and we look forward to presenting this concert of HOPE: It's Been a Long Time Coming with songs that have and will continue to inspire us all."
Hailing from the town of Soweto, the birthplace of South Africa's democratic movement's struggle for freedom, Soweto Gospel Choir inspires audiences around the world with their powerful blend of African gospel, freedom songs, U.S. Civil Rights songs, and international classics. This will be the third time the choir has performed at IU Auditorium with other visits taking place in 2005 and 2015.
Campus Connections Programming
Campus Connections: Fall 2022 is a series of campus events championed by the Office of the Provost and created for the entire IU community. These events feature performances and entertainment from every corner of campus. Soweto Gospel Choir's performance at IU Auditorium is part of this initiative. More information on Campus Connections can be found at go.iu.edu/connections.
A Conversation with Soweto Gospel Choir
October 18, 11:15 a.m. at IU Auditorium
IU Auditorium will host a special conversation with members of Soweto Gospel Choir prior to their performance on Tuesday, October 18 at 11:15 a.m. The moderated conversation and Q&A will focus on South African music and culture. The event is free and will take place in the main lobby of IU Auditorium.
Soweto Gospel Choir at IU Auditorium is presented in partnership with Morgenstern Books, IU Foundation, Lennie's, and IU's Black Philanthropy Council. IU Auditorium's 2022–2023 season is presented by B97, Cook Medical, Curry Auto Center, The Herald Times, Upland Brewing Company, and World Arts Inc.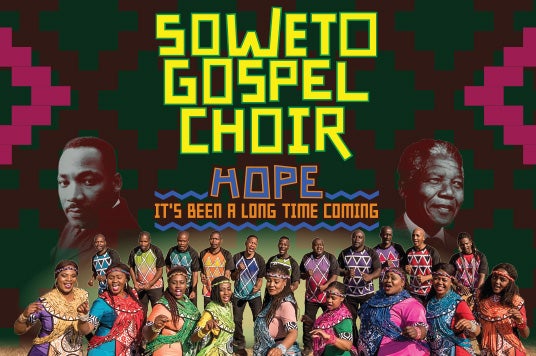 This Grammy-winning group brings their concert of Hope to Bloomington!