Straight No Chaser Returns to IU Auditorium as part of Back in the High Life Tour on Friday, December 17
BLOOMINGTON, Ind. – Chart-topping a cappella group Straight No Chaser returns home to IU Auditorium on Friday, December 17 at 8 p.m. as part of their Back in the High Life Tour.
"Back in the High Life" will give fans the first opportunity to see, in person, the group perform the song after which the tour was named. The evening will also include tracks from last year's album Social Christmasing and a mix of brand-new arrangements and fan favorites, with a setlist changing each night.
Since Straight No Chaser's formation at Indiana University in 1996, the performers have emerged as an international phenomenon. The group has clocked in two RIAA-certified Gold records with more than 1 billion streams and sold more than 1.5 million concert tickets worldwide to their unforgettable live shows. In 2020, the group unveiled their latest holiday album, Social Christmasing, featuring the group's signature twist on Christmas classics like "Silver Bells" and "Frosty The Snowman," five new original songs, and a hopeful take on the Counting Crows classic "A Long December."
"After a year without them, we are excited to welcome IU's very own Straight No Chaser back to our stage as part of their Back in the High Life Tour," said IU Executive Director Doug Booher. "It's always a special evening when the guys return to perform on the campus where it all began and we can't wait to hear their latest arrangements of our favorite songs and holiday classics."
Preceding the show, there will be a food donation drive benefiting the Hoosier Hills Food Bank in Bloomington. Hoosier Hills Food Bank is a local non-profit organization dedicated to eliminating hunger in South Central Indiana. Donations will help feed children, seniors, and low-income households across Monroe, Brown, Lawrence, Orange, Owen, and Martin County. Donations will be collected in the Auditorium entryway starting one hour before the show begins. All donations of non-perishable food will be greatly appreciated.
Straight No Chaser at IU Auditorium is supported by Baird Private Wealth Management, IU Credit Union, Lamar Outdoor Advertising, and WTIU. IU Auditorium's 2021–2022 season is presented by B97, Curry Auto Center, The Herald Times, CFC Properties, and World Arts Inc.
For more information on this performance and the rest of the 2021–2022 season, visit IUauditorium.com.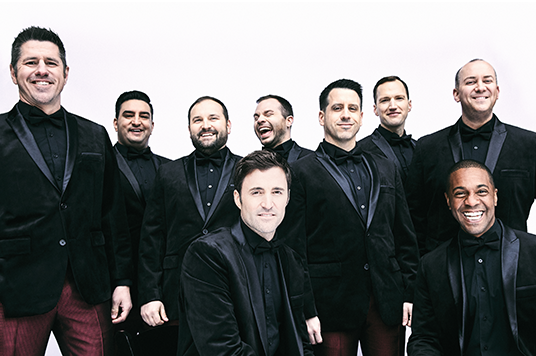 IU's favorite a cappella group returns as part of their Back in the High Life Tour.