Straight No Chaser, ESPN's Sage Steele, and Dennis James Highlight IU Auditorium Virtual Events This Monday and Tuesday
BLOOMINGTON, Ind. – IU Auditorium will be hosting a pair of virtual events next week featuring IU's own Straight No Chaser, Sage Steele from ESPN, and cinema organist Dennis James. Both events are free and can be viewed online or from any mobile device.
The guys from Straight No Chaser will preview some tracks and chat about the recording of their upcoming holiday album Social Christmasing with ESPN's Sage Steele on Monday, October 26 at 8 p.m. ET. Fans can register to watch the event on Zoom or view the event on Facebok Live through SNC's or IU Auditorium's Facebook pages. The group will take some questions from the audience during the live broadcast.
Dennis James Hosts Halloween is back as James will bring Alfred Hitchcock's classic film Blackmail to life live from the IU Auditorium stage to viewers at home on Tuesday, October 27 at 8 p.m. ET. Fans can register to view the free event at IUauditorium.com and will be sent a reminder the day of the live online screening. The performance will be available to view through November 3. James will play the soundtrack live on IU Auditorium's 4,543 pipe organ.
The Dennis James Hosts Halloween virtual event is presented with support from the Indiana University Foundation and Fred and Beth Cate.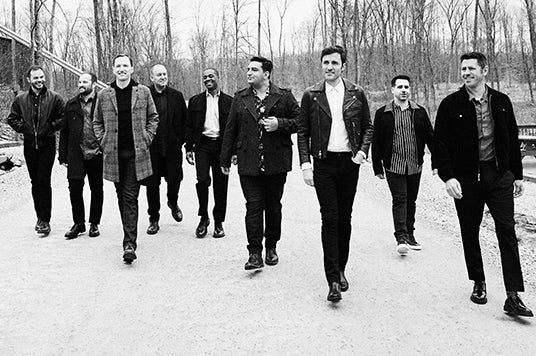 Join Straight No Chaser and ESPN's Sage Steele for a live listening party of SNC's upcoming holiday album.