Grammy Award-Winning Silkroad Ensemble to Present a Riveting Multimedia Performance on Friday, April 8
BLOOMINGTON, Ind. – IU Auditorium is proud to present an all-new production and tour by the Grammy Award-winning Silkroad Ensemble on Friday, April 8 at 8 p.m.
Silkroad Ensemble creates music that engages difference, sparking radical cultural collaboration and passion-driven learning to build a more hopeful world. Founded by cellist Yo-Yo Ma, the group has been called "vibrant and virtuosic" by the Wall Street Journal, "one of the 21st century's great ensembles" by the Vancouver Sun, and a "roving musical laboratory without walls" by the Boston Globe.
Their program in Bloomington will feature an evening-length multimedia performance of Home Within, an emotional accounting of home in a time of conflict. This audio-visual performance, conceived through a collaboration between Syrian composer and clarinetist Kinan Azmeh and Syrian-Armenian visual artist Kevork Mourad, is an impressionistic reflection on the unity of loss, longing, and the impact of tragedy on our sense of "home." Rather than follow a narrative, the artists documented "home" at specific moments in Syria's recent history. They then used the counterpoint between image and sound to establish a sense of sustained urgency and continued hope for both their homeland and communities around the world.
"This special performance of Home Within by Silkroad Ensemble arrives in Bloomington at a pivotal time in our world's history," said IU Auditorium Executive Director Doug Booher. "The subject of this multimedia presentation is as timely as ever for those who will experience it. This group has toured the world over and it is an absolute honor to have these amazing artists on our stage as part of our season."
Silkroad Ensemble at IU Auditorium is presented in partnership with the FC Tucker/Bloomington REALTORS and Lennie's. IU Auditorium's 2021–2022 season is presented by B97, Curry Auto Center, The Herald Times, Cook Medical, and World Arts Inc.
For more information on this performance and the rest of the 2021–2022 season, visit IUauditorium.com.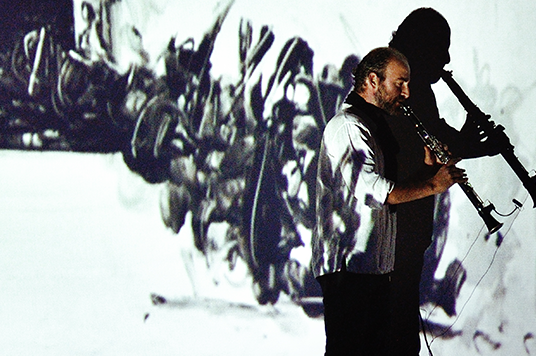 A riveting multimedia performance from the Grammy Award-winning ensemble.