Inspired by the Academy Award-Winning Film, The New Musical An Officer and A Gentleman Arrives in Bloomington on January 18
BLOOMINGTON, Ind. – An Officer and a Gentleman, a new musical, is making its Bloomington debut on Tuesday, January 18 at 7:30 p.m. at IU Auditorium for one night only.
Based on the Oscar-winning film, An Officer and A Gentleman is the timeless love story that celebrates triumph over adversity. This new musical features an iconic score including Grammy and Oscar-winning #1 song "Up Where We Belong", and your favorite 80s hits including "Higher Love," "Owner of a Lonely Heart," "Love is a Battlefield," "Right Here Waiting," and many more.
Zack Mayo has the raw talent and strength for the US Navy's Officer Training School, but his arrogance is out of step. Graduating from the elite program will secure Zack's career and future, but can he endure the relentless commands of Drill Sergeant Foley? On his journey of self-discovery, Zack finds comfort in the arms of a strong-willed local factory worker. When tragedy befalls a fellow candidate, Zack learns the importance of friendship and honor, finds the courage to be his best self and wins the heart of the woman he loves.
"It isn't often we get to present a brand-new musical and An Officer and a Gentleman will take the audience along for a romantic adventure including a soundtrack filled with our favorite songs of the 80s," said IU Auditorium Executive Director Doug Booher. "We hope musical fans will join us to experience this touring production first before it hits a national audience and hopefully eventually Broadway."
An Officer and A Gentleman at IU Auditorium is presented in partnership with Lamar Outdoor Advertising. IU Auditorium's 2021–2022 season is presented by B97, Curry Auto Center, The Herald Times, French Lick Resort, and World Arts Inc.
For more information on this performance and the rest of the 2021–2022 season, visit IUauditorium.com.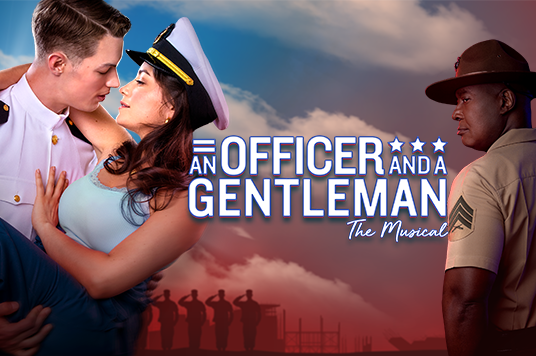 A sweeping romance that will lift you up where you belong! One night only.