A Special Screening and Conversation with Cast Members of Napoleon Dynamite at IU Auditorium September 23
BLOOMINGTON, Ind. – The beloved indie classic Napoleon Dynamite is coming to IU Auditorium for a special viewing of the film and a conversation with fan-favorite cast members. Napoleon Dynamite: A Conversation with Jon Heder, Efren Ramirez, and Jon Gries will take place Thursday, September 23 at 7:30 p.m.
This unique evening includes a full screening of Napoleon Dynamite followed by a lively, freewheeling, moderated discussion with memorable cast members Jon Heder (Napoleon Dynamite), Efren Ramirez (Pedro), and Jon Gries (Uncle Rico). James Shanahan, professor and former Dean of The Media School at IU, will serve as moderator for the cast.
"Napoleon Dynamite is a favorite in our family ever since my teenage daughter first told me about it," said Shanahan. "For everyone who has seen the movie, they know what fun repeated viewings will give. The chance to hear a conversation with the cast will make it all the more rewarding. I can guarantee those who haven't seen it that they will be glad they came."
The iconic film Napoleon Dynamite was made 17 years ago. Since then much has changed; but the characters, as enduring as they are endearing, have stayed in viewers' hearts. The story, and more importantly the dialogue, makes Napoleon Dynamite one of the most quoted movies since its release in 2004. This unforgettable movie has made audiences laugh—and laugh hard—over and over again.
A limited number of VIP tickets are available for this event. These include the opportunity to have a meet and greet with all three cast members. VIP ticket holders will also receive a signed poster from the actors and premium seating.
For more information on this event and the all 2021–2022 IU Auditorium events, visit IUauditorium.com.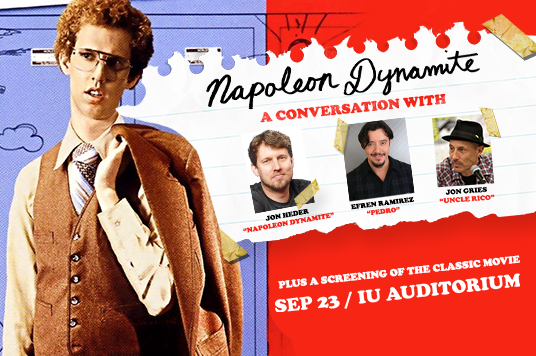 A conversation with Jon Heder (Napoleon), Efren Ramirez (Pedro), and Jon Gries (Uncle Rico).