Grammy Award-Winning Singing Group Ladysmith Black Mambazo Returns to Bloomington March 10
BLOOMINGTON, Ind. – The Grammy Award-winning singing group Ladysmith Black Mambazo will bring a night of their South African influenced sound to IU Auditorium on Tuesday, March 10 at 7 p.m. The group is known to warm the hearts of audiences around the globe with their uplifting vocal harmonies, signature dance moves, and charming onstage banter.
In the 1960s, Ladysmith Black Mambazo was founded by the late Joseph Shabalala, who went on to lead the group for over 50 years before leaving the group to be led by his four sons in 2014. The group's music making philosophy is focused on the preservation of their musical heritage as well as the entertainment elements intertwined throughout their music. With every performance they continue the legacy of singing of peace, of love, and for everyone to live in harmony.
Over the years, Ladysmith Black Mambazo has worked with some of music's biggest artists. In the mid-1980s, legendary singer/songwriter Paul Simon famously visited South Africa and incorporated the group's rich harmonies into his acclaimed album Graceland, which took home Album of the Year at the 1987 Grammy Awards. The group has also collaborated with Stevie Wonder, Dolly Parton, Sarah McLachlan, Josh Groban, Emmylou Harris, Melissa Etheridge, and many others.
"We are excited to welcome Ladysmith Black Mambazo back to Bloomington," said IU Auditorium Executive Director Doug Booher. "We know our audience will have a great time experiencing the magnetic energy and amazing vocals they're known for."
Ladysmith Black Mambazo was awarded their first Grammy in 1988 for Best Folk Recording. Over the span of 30 years, the group has won five Grammy Awards in total. In 2017, Ladysmith Black Mambazo's album Shaka Zulu Revisited won a Grammy for Best World Music Album of the Year. It is evident that their music continues to be as relevant today as it was over 50 years ago when it all began. The group returns to Bloomington for the first time since 2009 and is sure to present a mesmerizing and inspirational performance.
Ladysmith Black Mambazo at IU Auditorium is sponsored by Indiana University Foundation, Lennie's, Oliver Winery, and Southern Indiana Physicians. IU Auditorium's 2019–2020 season is presented by B97, Cook Group, Curry Auto Center, The Herald-Times, World Arts Inc., and IU Residential Programs and Services.
For more information on this performance and the rest of the 2019–2020 season, visit IUauditorium.com.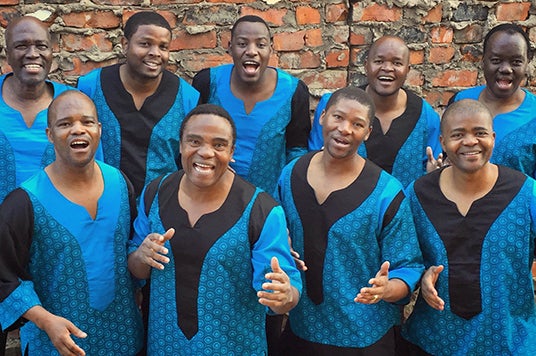 The Grammy Award-winning group featured on Paul Simon's acclaimed album Graceland.