Favorite Jazz Hits to be Performed as Jazz at Lincoln Center Presents: Songs We Love
BLOOMINGTON, Ind. – Jazz at Lincoln Center Presents: Songs We Love is a celebration of the history of American Jazz and its future, and will be performed live at IU Auditorium on February 20 at 7:30 p.m.
Songs We Love was first presented as the 2016 Season Opener at Jazz at Lincoln Center (JALC) in New York City. True to its mission "to entertain, enrich, and expand a global community for jazz through performance, education, and advocacy," JALC made the program available to other cities, but in short outings. Now, Songs We Love will reach 47 cities across the country, including Bloomington.
In Songs We Love, a superb ensemble of up-and-coming players, schooled and tested on the stages of Jazz at Lincoln Center and concert halls around the world, will revisit some of the great songs from the first decades of jazz. Under the musical direction of trumpeter Riley Mulherkar and featuring vocalists Vuyo Sotashe, Brianna Thomas, and Shenel Johns, the ensemble will bring to life songs and styles that define the sound of jazz singing from the 1920s to the early 1950s. It's a journey of blues, swing, and surprise, from the sound of Ma Rainey and the extraordinary storytelling of Billie Holiday and Ella Fitzgerald to the easy swing of Frank Sinatra and the dramatic flair of Judy Garland.
The repertoire includes gems such as the traditional blues "See See Rider," first recorded in 1924 by Ma Rainey, and Billie Holiday and Arthur Herzog Jr.'s "God Bless the Child," a classic ballad first recorded in 1941. The program also includes jewels by masters of songcraft such as George Gershwin's "I Loves You, Porgy," Cole Porter's "So in Love," and Harold Arlen's "Over the Rainbow," sung by Judy Garland in The Wizard of Oz in 1939.
These songs have remained an inspiration and a reference for generations of jazz and pop performers and songwriters.
"We look forward to hosting some of the finest jazz musicians from New York City as Jazz at Lincoln Center returns to Bloomington for the first time in over two decades," said IU Auditorium Managing Director Maria Talbert. "Jazz enthusiasts and the occasional listener are all in for a treat as this amazing group of artists provide a wonderful evening of some of the greatest songs ever performed."
Musical director Riley Mulherkar has worked with leading artists such as trumpeter and composer Wynton Marsalis, singer Dee Dee Bridgewater, and actress, playwright, and educator Anna Deavere Smith. He is a founder of The Westerlies, a New York-based brass quartet that conjures a blend of jazz, roots, and chamber music influences in its music.
The vocalists on tour include Vuyo Sotashe, Brianna Thomas, and Shenel Johns. The sextet accompanying Mulherkar and the vocalists features Andy Clausen on trumpet, Evan Harris on reeds, Mathis Picard on piano, Barry Stephenson on bass, and drummer Taurien "TJ" Reddick.
Jazz at Lincoln Center at IU Auditorium is presented in partnership with Lamar Outdoor Advertising, WFIU, and Arts Midwest. IU Auditorium's 2022–2023 season is presented by B97, CFC Properties, Curry Auto Center, The Herald Times, Upland Brewing Company, and World Arts Inc.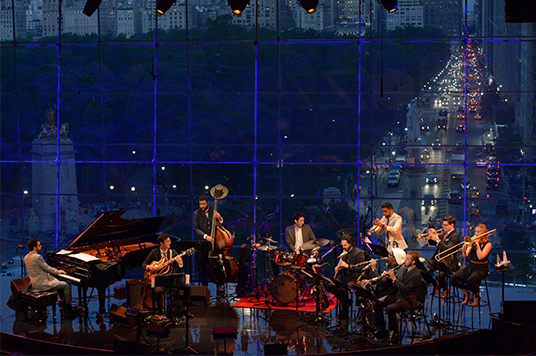 Celebrate 50 years of jazz hits with some of New York's rising stars.