Announcing The Full Ride Tour Featuring Kane Brown as Headliner in Inaugural Event at IU Memorial Stadium
Bloomington, Ind. – Kane Brown is set to headline the first stop on The Full Ride Tour college concert series, which will take place at Indiana University Memorial Stadium on Saturday, April 13, 2024 along with Jon Pardi, Jessie Murph, and Clayton Anderson. The Full Ride Tour is planned to extend to more universities throughout the country, with future dates to be announced. Each concert will be a unique experience geared towards the audiences and locations of each university that hosts the tour. Tickets for The Full Ride Tour on Saturday, April 13 at Indiana University Memorial Stadium will go on sale Friday, November 10 at 10 a.m. ET at FullRideTour.com.
Kane Brown, who kicks off his solo, national "In The Air" tour in March, shared his excitement to launch The Full Ride Tour, "I'm so honored to be headlining the stadium at Indiana University. I love college sports, especially football, so to be playing in this venue is incredibly exciting."
The Full Ride Tour series has been created by On Location, a leader in the premium experiential hospitality business, and Doussan Music Group (DMG), an entertainment promotion and production company.
Paul Caine, On Location President and Indiana University Alumni commented, "we are thrilled to bring an elevated concert experience to schools across the nation. In addition to the incredible artists that we will see at some of the most iconic venues, each event will be a special experience tailored to its locale as we incorporate and celebrate the local campus culture, atmosphere, and personality."
In addition to bringing a full, thrilling, and unique, jam-packed day of concert activities, music, and school spirit, The Full Ride Tour is committed to working with a charity partner central to each school, different at every stop. At Indiana University, The Full Ride Tour will partner with Students Helping Students, which is a student run charity that conducts numerous goodwill efforts on and across campus.
"Indiana University is thrilled to be hosting the first major concert in Memorial Stadium in three decades," said Doug Booher, Assistant Vice President of Events and Conferences at IU. "This momentous event is a result of IU's valued partnership with On Location and distinguished IU alumnus, Paul Caine."
DMG President Russell Doussan added, "we are excited to bring to life an incredible music adventure in partnership with On Location and historic universities. Connecting fans, students, and alumni for memorable nights of live music with popular artists and traditional college brands is a dream come true."
Tickets for The Full Ride Tour at Indiana University will be on sale through Ticketmaster at 10 a.m. ET on Friday, November 10 at FullRideTour.com or IUauditorium.com. Pre-sales for the event start on November 2 at 10 a.m. ET. For further details and information, please visit FullRideTour.com.
VIP ticket experiences are also available and can include admission to the VIP lounge and pre-show reception, early access, dedicated entrance and more.
About On Location
On Location is a premium experience provider, offering world class hospitality, ticketing, curated guest experiences, live event production, and travel management across sports, entertainment, and fashion. From unrivaled access for corporate clients to guests looking for fully immersive experiences at marquee events, On Location is the premier and official service provider to over 150 iconic rights holders, such as the IOC (Paris 2024, Milano Cortina 2026, LA 2028), NFL, NCAA, UFC and PGA of America, and numerous musical artists and festivals. The company also owns and operates a number of unique and exclusive experiences, transforming the most dynamic live events into a lifetime of memories. On Location is a subsidiary of Endeavor, a global sports and entertainment company.
About DMG
Doussan Music Group or DMG was founded in early 2021 by Russell Doussan, in the wake of the music industry coming back online. When asked what his driving motivation was to open his own promoter group Doussan stated, "Introducing each artist to their fans through the LIVE music experience is a passion of mine. As the artist hits the stage, feeling the energy in the room and hearing the venue come alive, is what drives me. Music is the soundtrack of our lives!" DMG is set up to promote and produce U.S. Tours with a primary focus on indoor venues as well as curated event. The company's staff of "rock stars" includes seasoned music industry veterans in booking, marketing, ticketing, production, accounting, and VIP sales.
About Indiana University
Indiana University is one of the nation's leading public research universities, with 90,000 students across 930+ academic programs, seven campuses, two regional academic centers and nine School of Medicine campuses. Since 1820, Indiana University has helped students create brighter futures, while also driving innovation, from breakthroughs in DNA technology to cancer research to trailblazing cultural programs and resources. IU is home to world-class academics with the country's largest medical school, the world's first school of philanthropy, the top-ranked Kelley School of Business and O'Neill School of Public and Environmental Affairs, and the Luddy School of Informatics, Computing and Engineering, the nation's first school of informatics. The university's campuses are united by IU 2030, an aspirational vision for a bold and ambitious future focused on student success and opportunity, transformative research and creativity, and service to the state of Indiana and beyond. Learn more at iu.edu.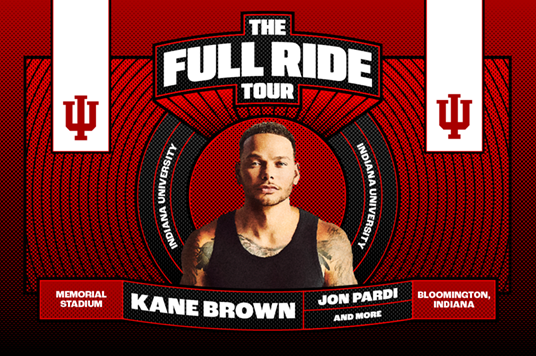 Presented by On Location and DMG featuring Kane Brown, Jon Pardi, Jessie Murph, and Clayton Anderson