Acclaimed Pianist Emanuel Ax to Perform Works of Schubert and Liszt on April 25
BLOOMINGTON, Ind. – To conclude its 2022–2023 season, IU Auditorium is proud to present world-renowned pianist Emanuel Ax when he comes to Bloomington for an evening of magnificent music on April 25 at 7:30 p.m.
His program at IU Auditorium will feature works by Schubert and Liszt, including Liszt's piano transcriptions of four Schuber Lieder: Ständchen, Liebesbotschaft, Der Müller und der Bach, and 'Horch, horch! die Lerch'.
Mr. Ax holds honorary doctorates of music from Skidmore College, New England Conservatory of Music, Yale University, and Columbia University, is a Fellow of the American Academy of Arts and Sciences, and has been a Sony Classical exclusive recording artist since 1987. His most recent release, Brahms Trios, was with Yo-Yo Ma and Leonidas Kavakos.
He received Grammy Awards for the second and third volumes of his cycle of Haydn's piano sonatas. He has also made a series of Grammy-winning recordings of the Beethoven and Brahms sonatas for cello and piano with cellist Yo-Yo Ma. In 2005, Mr. Ax contributed to an International Emmy Award-Winning BBC documentary commemorating the Holocaust that aired on the 60th anniversary of the liberation of Auschwitz. In 2013, Mr. Ax's recording "Variations" received the Echo Klassik Award for Solo Recording of the Year.
Emanuel Ax at IU Auditorium is presented in partnership with WFIU. IU Auditorium's 2022–2023 season is presented by B97, CFC Properties, Curry Auto Center, The Herald Times, Upland Brewing Company, and World Arts Inc.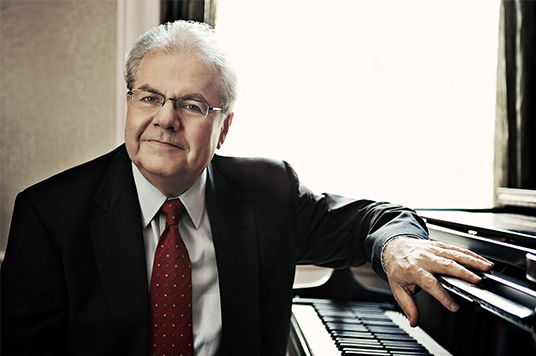 A night of musical mastery with this Grammy-winning pianist performing works by Schubert and Liszt.