Blue Man Group is Back and Better Than Ever, Arriving at IU Auditorium March 23 and 24
BLOOMINGTON, Ind. – IU Auditorium is proud to present the return of Blue Man Group on March 23 and 24 at 7:30 p.m. as part of an all-new production and tour.
More than 35 million people around the world have experienced the smash hit phenomenon that is Blue Man Group, and the world-renowned bald and blue trio are back on the road in a new North American tour. The tour features everything audiences know and love—signature drumming, colorful moments of creativity, and quirky comedy—the men are still blue, but the rest is all new! Including pulsing, original music, custom-made instruments, surprise audience interaction, and hilarious absurdity, audiences join the Blue Men in a joyful experience that unites audiences of all ages.
"Blue Man Group is one of our most highly-anticipated performances each and every time it comes to the Auditorium," said IU Auditorium Executive Director Doug Booher. "Unique, exciting, interactive, and fun, Blue Man Group is a form of entertainment like no other. It is guaranteed to be a theatrical experience you will never forget."
Blue Man Group is known for its award-winning theatrical productions, iconic characters, and multiple creative explorations, and its performances are euphoric celebrations of human connection through art, music, comedy, and non-verbal communication. Since debuting at New York's Astor Place Theatre in 1991, the live show has expanded to additional domestic residencies in Boston, Chicago, Las Vegas, and Orlando, an international residency in Berlin, and multiple North American and world tours. Blue Man Group is universally appealing to a broad range of age groups and cultural backgrounds.
Kids Night on Broadway
In addition to the performance, Blue Man Group will be IU Auditorium's annual Kids' Night on Broadway celebration for the 2021–2022 season. IU Auditorium is pairing up with Bloomington's WonderLab to bring crafts and creative educational activities for children and families to enjoy preceding each show in the IU Auditorium's lobby when doors open at 6:30 p.m.
Give the Magic
Each year, IU Auditorium's Circle of Friends provides tickets to underserved youth in our community to access world-class performances and special activities with the Give the Magic program. This year's Give the Magic participants will experience Blue Man Group free of charge and have the opportunity to enjoy Kids Night on Broadway activities 30 minutes prior to doors opening to the public. IU Auditorium would like to thank longtime partners at IU Health Riley Physicians Pediatrics and its Circle of Friends members for making this opportunity possible for families in the community. For more information, including how to provide support, visit IUauditorium.com/GiveTheMagic.
Blue Man Group at IU Auditorium is presented in partnership with the Campus Tutoring Service and Jo Throckmorton Filmworks. IU Auditorium's 2021–2022 season is presented by B97, Curry Auto Center, The Herald Times, CFC Properties, and World Arts Inc.
For more information on this performance and the rest of the 2021–2022 season, visit IUauditorium.com.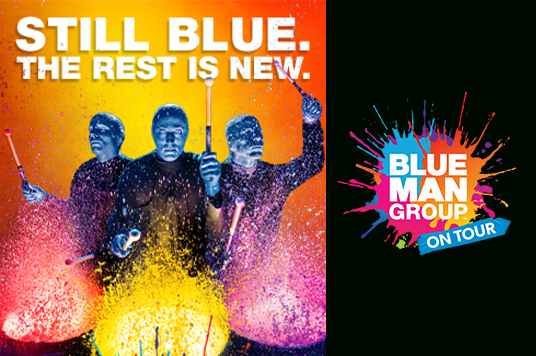 The smash hit phenomenon that's been experienced by more than 35 million people around the globe.