Hip-Hop Classical Fusion to Take the IU Auditorium Stage with Black Violin on February 25
BLOOMINGTON, Ind. – Combining the sublime sounds of classical music with stylistic elements of popular music, Black Violin will perform live at IU Auditorium on Saturday, February 25 at 8 p.m. as part of the Black Violin Experience tour.
This tour will showcase Grammy nominated duo Black Violin, brought to life by Kev Marcus and Wil Baptiste, invoking a mystifying musical fusion of exquisite classical sounds and exhilarating hip-hop beats. A concert performance that boldly merges centuries of music and unites audiences with a message of hope and possibility. Fans can expect to be immersed in a sound that transcends categories and celebrates ingenuity and ambition, proving anything is possible. This tour follows their most recent Grammy nomination for Best Americana Performance for "The Message," a collaboration with Blind Boys of Alabama.
On stage, Kev Marcus gives an electrifying violin performance along with Wil Baptiste's magnetizing viola and vocal performance. Joining them are Nat Stokes on drums, DJ SPS on the turntable, and Liston Gregory on keys. Together they are reconceptualizing what a violin concert looks and sounds like, building bridges to a place where Mozart, Marvin Gaye, and Kendrick Lamar harmoniously coexist. Black Violin invites you to think outside of the box.
"This is a performance and experience that music fans will not want to miss," said IU Auditorium Executive Director Maria Talbert. "Black Violin will bring an exhilarating program to our stage influenced by the long tradition of classical music and fused with some of today's top genres for an evening like no other."
For nearly two decades, Black Violin has been merging string arrangements with modern beats and vocals and building bridges in communities along the way. Kev and Wil first met in orchestra class at Dillard High School in Fort Lauderdale, becoming classically trained on the violin and viola through their high school and college careers. Post-college, they reconvened to produce beats for South Florida rappers, and began building an audience in local clubs.
They later went on to win Showtime at the Apollo in 2005, and eventually sold-out headline performances at venues across the country. NPR took note and declared "their music will keep classical music alive for the next generation."
Black Violin plays roughly 200 shows a year, and have work alongside the likes of Kanye West, Aerosmith, Tom Petty, Wu-Tang Clan, Wyclef Jean, and Alecia Keys.
Black Violin at IU Auditorium is presented in partnership with the IU Bookstore and Graduate Bloomington. IU Auditorium's 2022–2023 season is presented by B97, CFC Properties, Curry Auto Center, The Herald Times, Upland Brewing Company, and World Arts Inc.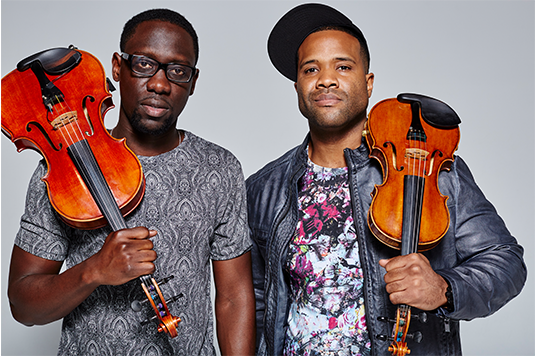 This duo combines their classical training and hip-hop influences to create a multi-genre sound.