IU Auditorium Loyalty Points
Loyalty Points are earned by donating charitable gifts to the IU Auditorium Circle of Friends and subscribing to the IU Auditorium season. They are our way of thanking our patrons for their support!
Points determine seat locations for season shows, and the greater your point total, the closer you get to the action.
Here's how points are calculated: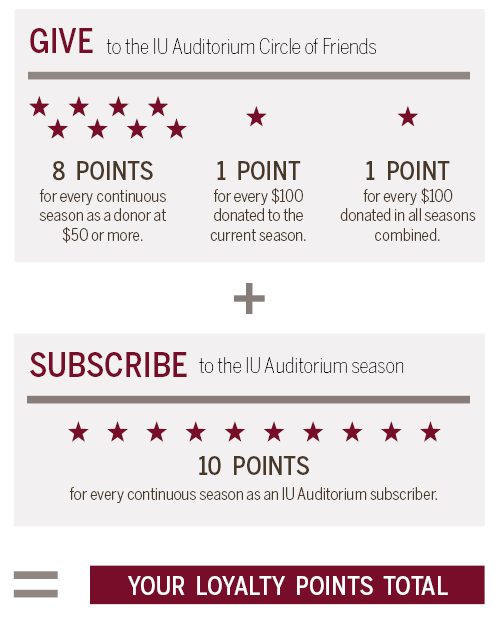 Each April, patrons with Loyalty Points will be mailed their current point total. The larger the total, the sooner your seats will be selected! And, as long as you place your upcoming season's order by the Loyalty Points deadline, your seats will be selected before new subscribers, pre-orders, and the general public!
For questions regarding our Loyalty Points system, please reference our Loyalty Points FAQ page, call our Box Office at (812) 855-1103, or email your inquiry to [email protected].
*Please note: subscriber records begin with the 1987–1988 season and giving records begin with the 2003–2004 season. Pledges (for example, a pledged payroll deduction that has not yet been received) do not count toward Loyalty Points until the gift has been received. Some specialty fundraising campaigns may be exempt from receiving points. Continuous Giving Points are subject to a minimum gift of $100.
For inquiries regarding our Loyalty Points system, or to learn more about your personal points, please contact our Box office at (812) 855-1103 or [email protected]