Aug
16
, 2017
Freshman Induction Ceremony
Print This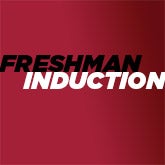 The Freshman Induction Ceremony marks, with pageantry and fanfare, the beginning of your IU career. Your family is also invited to attend.
This tradition is the ceremony where new students are inducted into the new class of Hoosiers. It is presided over by IU Provost Lauren Robel. You'll also be invited to make your Indiana Promise, a commitment to IU and to yourself to be ethical, responsible, and respectful.
Afterwards, join other families and members of the IU community for the Induction picnic under a canopy of trees. Click here to make your reservation today!